Scoring a goal for racism
Armenophobia is present at the UEFA Europa League Final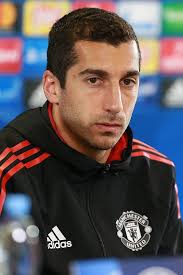 The UEFA Europa League is known to be one of the highest competitions in world football, second only to the UEFA Champions League. And whenever two strong English clubs like Arsenal and Chelsea make the finals, there's guaranteed to be fireworks. However, with such a large event only a few days away, a controversy has sprung up that has put a large stain onto the organization.
The Final of the Europa League is set to take place at Baku on May 29, at the historic Baku Olympic Stadium. To many normal football fans, it seems like a good place to host a final. The stadium is large, and the city itself is very well developed due to the Baku oil fields nearby. But the country itself that is hosting the event, Azerbaijan, has deep rooted racism in its government and general populace against its neighbor, Armenia.
Henrikh Mkhitaryan, a well known Armenian football player for Arsenal FC, was faced with a hard choice after Arsenal got the final of the UEFA Europa League. Being an ethnic Armenian, his life would be in danger if he traveled to Azerbaijan. The Artsakh war for independence, a conflict erupting after Armenians were subject to pogroms by the Azeri government while the Soviet Union was on the verge of collapsing, resulted in the century-old Armenian state winning its independence from the Azeri regime. This military victory was seen as one of the most surprising military victories during the turn of the century, as Armenian soldiers were often undersupplied and less in number than their Azeri counterparts. The Azeri army also hired experienced fighter pilots from Ukraine and Russia, while also receiving help from terrorist groups (Hezb-e-Islami), militants, (Chechen militants), ultranationalist organizations (Grey Wolves) and Turkey. Turkey reportedly sent around 500 officers to train the unexperienced Azeri army during the dawn of the war. And yet, Armenian forces managed to win the war and take back their ancient lands from the oppressive Azeri regime.
This conflict has spilled over to neutral zones, as an Azerbaijani soldier serving in a NATO exercise in Romania killed an Armenian one with an axe as he slept. Targeting multiple Armenians, Ramil Safarov managed to only kill one Armenian and was expedited to his homeland where he was hailed as a hero by the general public. He was promoted to major and given 45,000 manats (26,392.95 US dollars) of back pay. The rooted racism inside their government is evident too, as Ilham Aliyev, the president of Azerbaijan, (who's suspecting of being a dictator himself due to suppressing political oppression and silencing reporters) consistently states that he will not have peace with Armenia unless they give up Artsakh, willing to use force if necessary. Energy rich Azerbaijan has spent quite a lot of money on refitting their military to take back Artsakh with as much death to the Christian Armenians as possible. The Azeri army even posted a picture with their army, stating that Shushi is in their sites. (Shushi is a strategic military city in the Republic of Artsakh. During the war for independence, Azeri soldiers used it as a bombing base to bomb Artsakh capital, Stepanakert, and the innocent civilians living there. Armenian forces were able to capture Shushi back during the Liberation of Shushi, turning the tide of the war that lead to many more significant military victories.) And now they are ready to ignite the conflict once again.
And so, Armenian supporters of the London clubs will not be able to travel to see quality football over simply being born Armenian. Mkhitaryan has also decided, for his own safety, to stay in London while his team travels abroad to try and bring the cup back to him. This decision was criticized largely by the world, including Liverpool manager Jurgen Klopp. Klopp stated that having the final in Baku was "irresponsible." Azerbaijan should not have the right to restrict certain people's based on their nationality, especially when the war is not active and sporadic border conflicts are rare. The lives of players and fans should not be endangered, as it is very clear what Azeri people would do to Armenians if they stepped foot onto Azeri soil. Being an Armenian supporter of Arsenal myself, I felt that restricting me based on my ethnicity is simply discriminating towards people who just want to watch good football, regardless of the ethnic conflicts their homeland's face. A solution to the problem would be to have the final rescheduled to be in England's Wembley Stadium. A stadium with much more history than Baku Olympic Stadium and in closer proximity to the two contenders, it will let Mkhitaryan play alongside his teammates and Armenians to attend the sporting event without fear for their lives.