Shake Shack brings an east coast classic to Glendale
Ani Sarkisyan, Staff Writer and Website Videographer
October 31, 2016
The line for newly opened Shake Shack extended right around the corner of Brand Blvd. as the aroma of Angus beef patties made first-time customers' mouths water. The greatly anticipated East Coast classic Shake Shack finally made its way into Glendale on Sept. 23. With several burger joints blocks away, many wondered if Shake Shack could claim its territory. The real question, however, is how Shake Shack would compare to In-N-Out.
With an empty stomach and an open mind, I stood in line for my Shake Shack burger. Right off the bat, I didn't appreciate having to stand under the burning sun, waiting for the line to get shorter so that I could make my way into the "Shack." The restaurant itself is a very modern-looking place with rustic yet timely seating arrangements in its exterior. One of the workers kindly handed my friend and me a menu while we stood in line.
As my eyes widened when I looked at the high prices, the line started moving. In about five minutes, we made it to the inside. I decided to step out of my comfort zone and get the 'Shroom burger which was described as a "crisp-fried portobello mushroom filled with melted muenster and cheddar cheeses, topped with lettuce, tomato, and shacksauce."
After the person taking my order kindly said hello, I told him I wanted the 'Shroom burger combo. Little did I know that this wasn't like any other burger place I had been to. You had to order everything separately. Slightly embarrassed, I asked for an order of crinkle-cut fries and a large Diet Coke.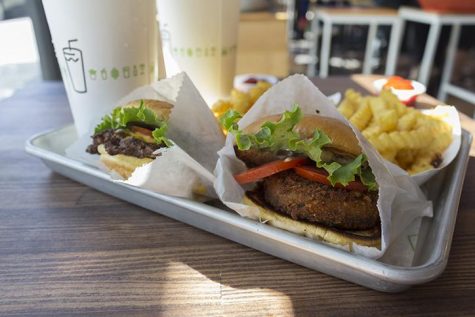 My friend then ordered the Shackburger, which is just a regular cheeseburger with lettuce, tomato and shacksauce. The man rang me up and our total was $27.65. Shocked at the total, I handed him my money and waited for the food.
The whole restaurant was packed, so my friend and I were on the lookout for any people who were about to finish their food. Once we found a table, our food was ready. Since it's a tradition to eat my fries with ranch, I asked the worker for it. I was disappointed to find out that they only offered herb buttermilk mayo. I got the mayo and made my way to the table. Both burgers looked very fresh and vibrant. As I took a bite, the cheese exploded out of the fried mushroom. The burger was delicious and I really enjoyed the potato bun it was made with. Though the fries weren't spectacular, they had the perfect amount of salt on them.
Getting to my final bite, I realized that Shake Shack is pretty good. It might have been a bit overrated, but the quality of the food was exceptional. My main complaint, though, was the price. With $27, I could have bought enough food from In-N-Out to feed a family of four.
Address: 252 S. Brand Blvd, Glendale, CA 91204
Phone Number: (818) 856-1612
Website: https://www.shakeshack.com/
Hours of Operation: 11 a.m- 11 p.m. Seven days a week