'Zootopia' makes audiences go bananas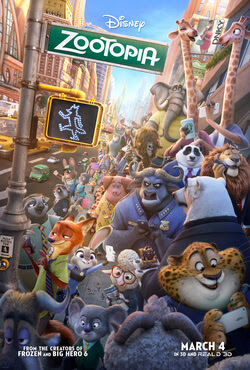 Zootopia, Walt Disney company's 55th animated film,  features the voices of Jason Bateman (Identity Thief) as Nick Wilde, a street-smart, sly fox; Ginnifer Goodwin (Once Upon a Time) as Officer Judy Hopps, a bunny determined to be a "real cop"; Idris Elba (Thor) as Bogo, a cape buffalo and chief of the first precinct of the Zootopia Police Department; and Shakira as Gazelle, a pop star-slash-activist, among others.
One can be a little skeptical of this movie at first — face value, this movie seems to be a run-of-the mill production intended to spark a craze amongst young children. It seems almost routine — they see the cheesy trailer on TV, get excited and end up dragging their parents to go see it that weekend.
However, it's pleasantly surprising to walk into the theater and see adults and kids alike being genuinely interested by the movie. Zootopia manages to cater to all ages, providing the entertainment kids love and references to adult favorites, like Breaking Bad and The Godfather.
The animation is clean; harder conditions to animate such as rain and snow are well done. The characters themselves are impeccable, from the facial expressions down to Nick Wilde's nose, which resembles that of the actor who voices him — Jason Bateman. Idris Elba's accent paired with the gruff animation of Bogo makes for a character reminiscent of James Bond meets Rocky Balboa. The movie does a good job of being colorful without being cheesy, like other children-oriented productions.
The plot itself is definitely more complex than those of other movies in its genre. There are a bunch of twists and turns, and just when you think it's over, it hasn't really even begun. Woven into the main series of events are flashbacks of the two protagonists' childhoods, which serve a purpose in conveying an underlying message (which can be construed in any which way, depending on how you think).
The only part that the movie could have gone without, would be Shakira performing her character Gazelle's song, which is quite unnecessary and is the only relevantly cheesy part of Zootopia. The music draws parallels to Frozen, whose soundtrack has been overplayed for almost three years now.
This movie follows up another heart-wrenching animated dramedy, The Good Dinosaur, and is definitely a little less annoying than Frozen. If you're looking for a bunch of life lessons hidden beneath a light-hearted, occasionally tear-jerking plot, go ahead and don't be embarrassed to go watch Zootopia.