'Where to Invade Next' shows us what we could do better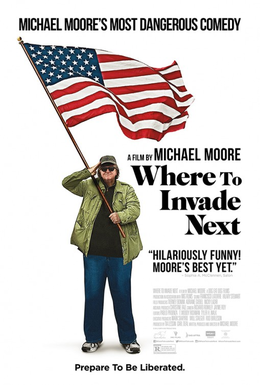 Michael Moore isn't necessarily known for creating the most upbeat of films, but nevertheless he has created some of the most important documentaries in recent years, including the Academy Award winning Bowling for Columbine. However the provocative filmmaker's latest documentary, Where to Invade Next, isn't a two-hour-long venture into the cruel depths of America's crippling democracy. In fact, most of this story doesn't even take place in the states.
It takes place mostly in Europe and North Africa and it follows Moore's journey in uncovering the privileges of citizens living in countries such as Italy, France, Germany, Tunisia and several more. The film pinpoints issues such as women's rights, police brutality, cruel and unusual punishments, the education system and other such dominant national issues.
This film takes a different approach than the majority of Moore's other works. For one thing, the objective of this film is not to target America's flaws but rather to highlight where we could be doing better by observing governmental structures and lifestyles that we might not be accustomed to. The film also takes on a more playful tone with dark satirical undertones. The premise of the film is based entirely on a running joke: Moore himself is out to "invade" countries whose names he can "mostly pronounce" and bring things we don't have back to America. As he visits each country, he plants a large American flag wherever he may find himself — be it an elementary school in France or a prison in Norway. And as he does this, he claims the idea to be henceforth American.
The most enjoyable aspect of this film is not the comedic intelligence or the gripping social commentary, but the fact that, unlike any other film of Moore's, the film is neither left nor right wing. Instead of telling you what to think, like Moore's other films, Where to Invade Next just displays the reality that in some countries in Europe, citizens are treated with more humanity and dignity than American citizens are.
Although the idea of such a film is ingenious and the execution is near-perfect, be warned, this is a very carefully made film. In other words, it only shows the positive side of things in these countries and their dealing with issues, rather than shining a light on the positive and negative. As Moore states in the opening minutes of the film, "We're picking the flowers, not the weeds." When watching this movie, it's important to remember that even though these countries may be dealing with certain issues more effectively than the United States, they've got their own problems too. No government is perfect.
That being said, some of Moore's discoveries could really be beneficial and maybe we should take a closer look at them and try them out in our society. The first step in any form of progress should be to go watch this film because it will make your head spin with feelings of anger and dissatisfaction and passion for living a better life. Every American should watch this movie to fully realize how lucky we are to be Americans, but also what we can do to make this wonderful land even better. Catch it at Arclight Cinemas Hollywood or Sherman Oaks, and everywhere beginning Feb. 12.
Rating: 7.5/10