Anne Hathaway & Robert De Niro partner up to create 'The Intern'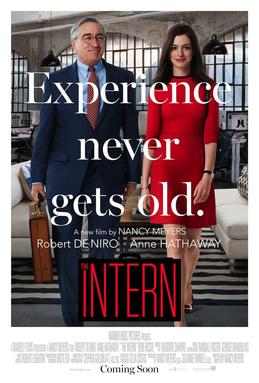 Nancy Meyers does a fantastic job writing and directing The Intern, which was released Sept. 25. Anne Hathaway and Robert De Niro make this film as sophisticated as possible, considering the fact that De Niro has always played the comedic role. Hathaway and De Niro's roles are total opposites, but it gives them the opportunity to consider each others' opinions.
As Ben Whittaker (played by De Niro) spots an ad for an internship in the fashion industry at CEO Jules Ostin's (played by Hathaway) office, he decides to give it a try, thinking that it would be a good opportunity for a 70-year-old retired man. Once he gets called in for an interview, he meets a few other interns with whom he easily interacts. He talks to Jules for about three minutes and is asked to wait for her response. Jules does everything she can to transfer Ben to be an intern because of her personality, but eventually, she changes her mind. Ben and Jules develop a very close relationship over time, which helps Jules break free from her overly anxious and troubling lifestyle.
De Niro and Hathaway are supported by fine performances by Adam DeVine, Anders Holm and Rene Russo. The film takes place almost entirely at the office of About the Fit, an online fashion business. The cinematography by Stephen Goldblattand and the musical score by Theodore Shapiro are linked in a very compelling way, so that the audience can concentrate on what is happening in the film. The dialogue in the film is very believable because it is very similar to real life situations.
The Intern attained $18.2 million at the box office, turning into a great success for the cast and producers. Since this is more of a comedic film, it is not limited to a specific age group, which makes it a great film to watch with friends or family. Hathaway and De Niro are phenomenal actors, so it would be a shame to miss out on the opportunity to watch this film that will allow you to see things from a different perspective.