Universal Horror Nights provides great scares
On my right, I saw Wolfman writhing on a chair when I was startled by a figure in a lab coat and science gear, whom I assumed was Frankenstein. He leaned toward me with a knife in hand, but I hardly got a look at the masked man before my friends ushered me along through the rest of the maze. I then proceeded to walk face-first into some curtains.
I wasn't expecting to find myself in this environment on a Thursday night, but my friends and I decided to visit Universal Studios for the annual Horror Nights event, many of them experiencing it for the first time like me.
However, we were faced with an obstacle immediately as we entered the park: some of my friends were scared. Junior Eleen Garemanian was thoroughly spooked as three men in masks fired up their chainsaws and terrorized her into a corner of a building.
"I didn't know what to do. I thought I was going to faint," Garemanian said. At one point she refused to continue through the rest of the night, but we assured her she wouldn't be hurt and continued.
The scare actors are truly devoted to their job. They chase screaming girls around, make their chainsaws roar, some eerily roaming the park on stilts, occasionally bending down to scare a distracted visitor. They were one of my favorite aspects of the entire event because it felt exciting and unpredictable.
Aside from these exceptionally dedicated actors, Universal's care for quality shone through the mazes. I only entered a couple of these attractions but the standards I had for the costume, set, and concept designs were met.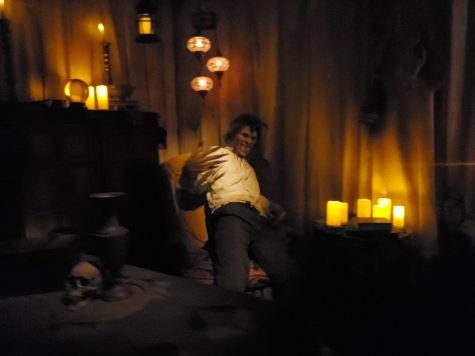 In Frankenstein Meets the Wolfman, my eyes widened at the sight of Dr. Frankenstein operating on a bloody, half-finished body, which I assumed was the monster's female counterpart.
This particular maze drew my attention because I had read Mary Shelley's Frankenstein and was unsatisfied with the image I had of a green monster with bolts on the sides of his head, as depicted in the 1931 movie.
On the day that I went to Horror Nights, the park was in its '80s throwback theme. I heard Rick Astley's "Never Gonna Give You Up," Michael Jackson's "Thriller" and "Billie Jean," the Ghostbusters theme song, and countless other '80s hits while standing in the long lines. Paired with the occasional visitor with neon-colored leg warmers or brightly-colored windbreaker, my experience included the fun aspect of traveling back in time.
The only criticism I have for Horror Nights is that the unbelievably long wait times make it impossible to visit each and every maze, but there's not much Universal can do about that.
Admittedly, I didn't get the full Horror Nights experience.
I didn't step foot in mazes like Us, Stranger Things, Ghostbusters, The Walking Dead, Killer Klownz from Outer Space, or House of 1000 Corpses, and I do regret that to some extent. However, due to the fact that nothing we had experienced at that point was scary and the lines were annoyingly long, my friends and I simply did not want to wait so long to be let down.
Although Horror Nights never actually scared me, I still fully enjoyed my experience because of my friends, the novelty of the experience and the superb production of the entire event.