March on forward
Clark Feminist Club participates in 2019 National Women's March
Bryan Han, Yearbook Section Editor
February 6, 2019
The blistering sun beamed down upon the closely packed crowds swarming around celebrity speakers. The sun vibrated its hot rays onto the muddy ground previously showered by the recent Southern California rains, leaving a compiled set of footprints tracking all around Hill Street in Downtown Los Angeles. And from a birds-eye view, nearing noon, more and more people huddled into a giant mass, carrying posters criticizing the current political climate.
This scene portrayed was the Third Annual Women's March held Jan. 19, where an estimated 100,000 marchers shared a common goal to collectively unite and advocate for equal rights amidst the seas of pink, black, blue and rainbow.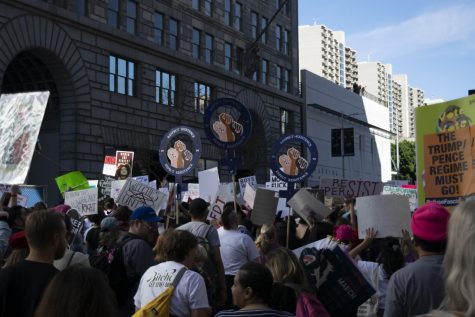 Amid the 100,000 participants, nine members of Clark's Feminist Club participated for the first time. Along with fellow marchers, members of the club voiced their concerns about numerous, including the protection of rights for women, teachers, workers, LGBT+ and immigrants.
Prominent topics swirling around the Los Angeles Third Annual Women's March included the L.A.U.S.D. teachers strike and Brett Kavanaugh's elevation to the Supreme Court after Christine Blasey Ford's Senate testimony.
Beforehand, senior president Sangam Sharma encouraged members to create posters criticizing political issues before heading towards the march. "I think it's important for words to speak for themselves," said senior Tracy Minasians. "But taking action [through creating posters and participating in the women's march] to voice these concerns about gender equality means the world to me."
Members of the club unite together and provide each other a safe environment to voice their opinions on equal rights and opportunities.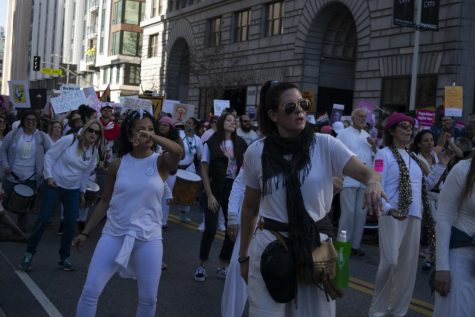 Every meeting, members of the club talk about news articles that criticize feminist issues. But when the women's march came, members were excited to finally not just voice their opinions, but feel like they could take action. "Just marching on with other that share similar core values as me helps me grow as a feminist," said senior Kryztyna Hernandez.
The Los Angeles Women's March speakers — Connie Britton, Gloria Allred and Laverne Cox — helped empowered marchers to spread awareness about the ongoing injustices that continue today. "The achieving of basic human rights, dignity, justice or equity for one group of people does not mean that something is being taken from another group," Cox said. "That's scarcity thinking, and scarcity thinking will always drive us further from each other."