696 makes impressive showings at FIRST competitions
"Going to championships was really fun for everyone," said senior Lousaper Boghosian. "The team hasn't gone [to the world championships] in ten years and it was a whole new experience."
Clark's robotics team competed at the FIRST Championships April 19–22 for the second time in its history, as 400 teams from around the world competed in over 100 matches in Houston, TX. "These teams first play qualifications to decide their rankings among their rankings amongst themselves," Boghosian said. "We ranked in the top 10 scores for the division." The team finished second place in their Newton Division of 67 teams.
"No matter how the season ends, we're still a well-performing, student-driven team," said President of the 696 robotics team Alexander Luke. Clark Magnet High School won the Los Angeles Regional FIRST Robotics competition on the weekend of March 25 and continued on to compete at the FIRST Robotics Arizona West Regional with the other 41 teams on the weekend of April 7, its competition held just prior to the world championships this past weekend.
All competitions first start with the qualification rounds. In the Phoenix competition there were 77 matches. Six scouts watched the robots at all times so that the top eight teams knew which team they wanted to work with during the finals. Team 696 was chosen by the fourth ranked team along with one another to compete with them in the finals. Each of the final rounds are two out of three and the team made it to semifinals, where it won one round but not the other two.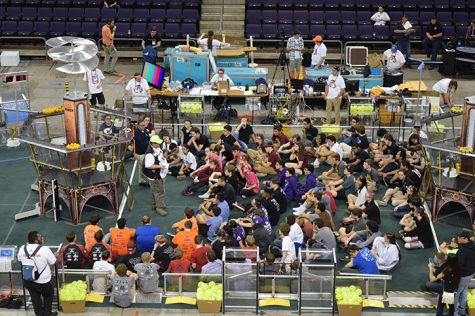 At the Phoenix competition, junior Karin Najarian won the FIRST Dean's List Finalist Award along with 200 other students worldwide. This honor recognizes leadership skills and someone who carries out the ideals of FIRST robotics. Najarian attended lunch with Dean Kamen, the founder of FIRST and other distinguished guests in Houston while being considered for one of the ten Dean's List Winner awards.
"I'm honored for the recognition," Najarian said. "I was interviewed for the award at Arizona. The judges made me feel really comfortable and I think I speak for the whole team when I say we were all very excited for the world championship."
Team 696 was chosen by the second-ranking team at the world championships in Houston. Najarian said that the final matches took the cake for most memorable occurrences. The team's alliance battled against the best alliance in the whole building in Newton division to decide who'd go to the Einstein division.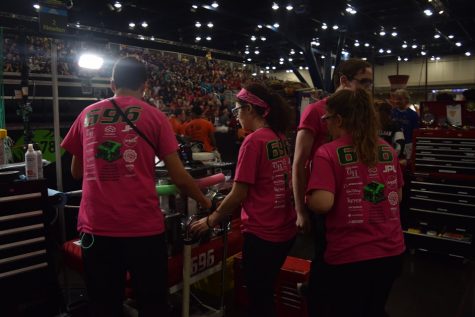 696 played the first match and lost by only nine points. "We were leading the whole time but while the robots were climbing one of our alliance member's robot touched the opponent's which gave them a 50 point penalty," Boghosian said.
See our article on their previous performance at the regionals here.