Locals gather on York Blvd. for Highland Park's annual El Mercado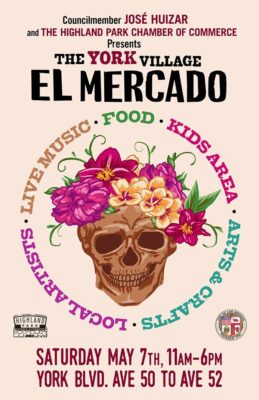 To celebrate the opening of York Park a year ago, a community event took place called El Mercado on York Blvd. between Avenue 50 and Avenue 52. Last Saturday saw the one-year anniversary of that event and in honor of the accomplishment, the City Council hosted another El Mercado event. A large number of independent artists and businesses set up booths along the boulevard to celebrate the neighborhood's gradual gentrification towards an improved quality of life for those who can afford it.
Some of the businesses at the gathering included the Los Feliz-based cult favorite Y-Que and many food trucks such as Plant Food for People's delicious vegan taco truck. Hundreds of Northeast LA residents had the option to sit and watch the never-ending concert or try food from each food truck or just explore the bookstore and record  stores. Also at the event were booths set up to register people to vote.
Glendale High School sophomore and Highland Park resident Kenneth Corté volunteered for a Bernie Sanders booth. His job was to walk around the street and either register people to vote or to persuade registered voters to vote for Sanders in the June 7 primary election.
"It was a good opportunity to volunteer in the community and support something I'm so passionate about," Corté said. "It is, however, really disappointing when I talk to someone who doesn't care or just doesn't want to register to vote." At the end of the day, he was unsuccessful in registering even a single voter, as most of the people he approached were either undocumented immigrants or were indifferent to the cause.
On a slightly happier note, one store owner on York stated, "It's great to see a communal event like this here."