Bea Bea's Cafe serves up a tropical vacation
Originating in Burbank, Bea Bea's recently opened its second location in Glendale, living up to its name and continuing to spread tropically inspired pancake flavors throughout our local community. Settled between the multitude of cafes and shops spanning Central Ave., this breakfast gem has become a sensation among locals with its creative and unique breakfast offerings.
Upon entering the restaurant, you can't help but take a whiff of the pancakes and French toast that fills the warm air. The interior of Bea Bea's is small and has the feel of a local modern diner. The restaurant can get very crowded on weekend mornings, so be sure to reserve a table in advance or grab a seat upon their counter.
Bea Bea's is known for their Hawaiian themed breakfast specialties, especially the Green Tea, Monster Pancakes, and Hawaiian Five-O French Toast. The Green Tea Monster is their signature pancakes that are made with matcha, filled with white chocolate pieces, and topped with the most delicious and creamy green tea mascarpone. Their pancakes are especially fluffy, and with each bite you get a light taste of green tea that isn't overpowering.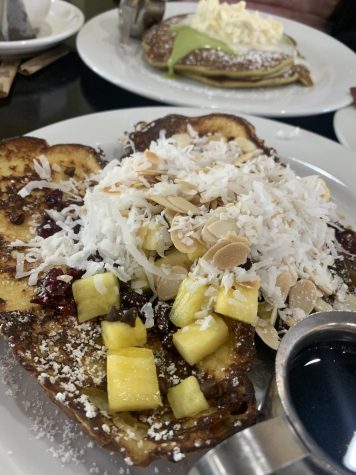 Another must have menu item is the Hawaiian Five-O French Toast. They use soft Hawaiian bread for their French toast base and soak it in a cinnamon honey butter egg mixture. This specific item is topped with the most tropical flavors, including coconut, pineapples, almonds, dried cranberries & chocolate chips. One taste of this delicious breakfast takes you back to a tropical getaway. For those who prefer simpler breakfast items, Bea Bea's also offers a simple pancakes and eggs breakfast plate that is equally as delightful.
Unlike the excellent food and service at Bea Bea's, the parking is truly a challenge. There is very limited parking in the area, and with the weekend crowds, it sometimes takes just as long to find a parking spot than to wait for a table. For their next location, Bea Bea's should scout an area with ample parking so customers don't have to waste time while they are hungry in the morning.
With great customer service and flavorful food, Bea Bea's brings back the local breakfast crowds weekend after weekend. Every visit will leave you with a smile and a full stomach, dreaming about your next tropical vacation.
Address: 301 N Central Ave Glendale, CA 91203
Phone: (747) 215-6439
Hours: Monday – Thursday: 7 a.m. – 3 p.m.
Friday – Sunday: 7 a.m. – 4 p.m.