Grab a cup of joe
Joe & The Juice is highly overrated
With over 200 locations nationwide, Joe & The Juice has attracted many customers on Brand Blvd. The small cafe has various drinks such as coffee, lattes, juice and shakes. They also serve a variety of sandwiches and two different yogurts. Although a trendy place to take pictures with your drink, I can safely say that the cafe is overrated.
I always like to try trendy coffee places that I can post on social media, but this cafe does not make my list. The cafe lacks great customer service, which is an important aspect of any restaurant. It is a unique restaurant that serves coffee, juice, and shakes.
Joe & The Juice is found between other trendy restaurants that attract young teens. I think that this cafe also attracts people who want a healthy juice or shake after a workout. The place definitely has a young and fun vibe to it, but I believe that the high prices and overall taste bring down the rating stars.
There are many different flavors of juices which are 100 percent vegan and upon entering the cafe, the smell of fruit fills the place. I ordered a small Iron Man juice and a Joe's Club Sandwich that failed to meet my expectations. The person taking our order was also the one who made the juices and foods, who was basically the only worker at the time until another worker finally came to help him.
The Iron Man included strawberry, kiwi, and apple and came to me not as cold as one would expect juice to be. It was very sour and not as blended as it should have been. The sandwich made up of chicken, avocado, tomato, and pesto sauce looked much more appealing in the picture online than it did in reality, but it still managed to taste better than I thought. The small application of pesto paired great with their chicken and tasty avocado.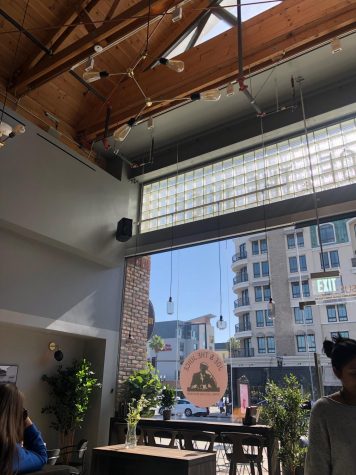 Although the juice and food was made fairly quickly, my sandwich was wrapped in brown paper and placed onto a napkin; they did not put it on a plate or a tray. Joe's Club Sandwich did taste better than it looked, but other places such as Togos or Subway do a much better job at sandwich-making.
The atmosphere did feel very welcoming, as the walls were filled with many funny sayings, which are great places to take a photo for your social media. The small high-top chairs and vases of flowers give off a cool and fresh vibe that is the first thing that appeals customers. With the many locations, I think that Joe & The Juice will grow and bring a variety of options to customers; however, I feel like they are trying to be the next Starbucks but with more menu options.
Their prices are also overpriced. Joe's Club Sandwich is under their specials and costs $8.90, while the small size (12 oz) juice costs $6.85. It was frustrating, because their prices are not posted on their website or on the menus in the cafe on Brand Blvd. Only if you were to ask what each item costs will you then find out the price. This cafe was also cashless, which I find to be a difficulty especially since the cafe is located in an area filled with young teens who might not own a credit or debit card yet. This was yet another aspect that ruined my view on the cafe.
I did greatly enjoy the sandwich from Joe & The Juice, but I would rather go to Starbucks for my coffee or Pressed Juicery for my juice. Although a cute place in which to take pictures and to grab a quick bite to eat, I feel that the cafe is overrated and not worth the time or money.
Joe & The Juice
252 S Brand Blvd, Glendale, CA 91204
Sunday 7 a.m. – 7 p.m.
Monday 7 a.m. – 7 p.m.
Tuesday 7 a.m. – 7 p.m.
Wednesday 7 a.m. – 7 p.m.
Thursday 7 a.m. – 7 p.m.
Friday 7 a.m. – 7 p.m.
Saturday 7 a.m. – 7 p.m.