McDonald's releases the BTS Meal
Days prior to the BTS Meal's May 26 release, BTS stans were tweeting edits of their dream BTS Meal designs. For the most part, people were hoping that the meal would be a Happy Meal. Though their edits differed, Twitter users customized the Happy Meal box with intricate BTS-themed packaging, even including a band member toy inside. Some users made genuine meal edits whereas others made edits that half-heartedly poked fun at the former's. Regardless, people were expecting a Happy Meal.
Then McDonald's released their US franchise of the BTS Meal on May 26. Contrary to the stans' designs, the BTS Meal was not a Happy Meal. The actual meal was placed in a McDonald's paper bag. But get this: the bag was sprawled with BTS logos.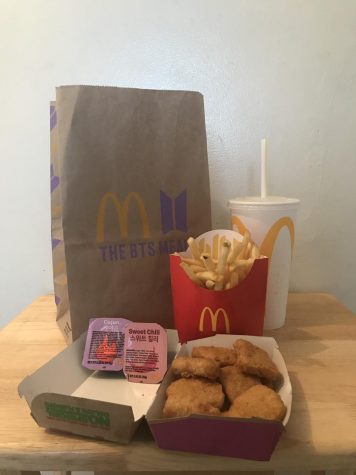 Inside the bag was the anticipated BTS Meal: ten chicken nuggets, large fries, a drink, and two dipping sauces – Cajun and Sweet Chili, respectively – handpicked by BTS' members. There was no BTS toy in sight.
The U.S. was one of the first countries where the BTS Meal was released. As such, Twitter was not prepared for this underwhelming meal. Many stans took to Twitter to voice their discontent.
Other people did not care about the design –– as was the case for Wilson Middle School eighth-grader Nanar Tutunjian. Tutunjian –– who never wanted to try the meal until her friend suggested it –– did not have many expectations for the BTS Meal unlike others.
"I expected to taste new flavors, which were the sauces," she said and clarified she had. However, she was not expecting the meal to have the same nuggets and fries.
"I thought there would be a new food addition," Tutunjian said. Still, she said that, overall, she enjoyed the BTS Meal and would recommend it to others.
Despite the mixed opinions regarding the BTS meal, the meal has been bringing in profit for McDonalds. As such, all McDonald's locations from the world –– like just recently, Mexico – have benefited from the hyped up collaboration.