'For Crying Out Loud' strays from indie roots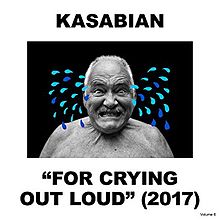 England is known for producing some of the most successful rock bands within the last few decades. Kasabian, an English rock band formed in Leicester, have finally produced their sixth studio album, For Crying Out Loud, three years after their last album 48:13 in 2014. This 12-track album was released on May 5, and is quite a contrast to the band's old indie sound.
From the very first song, the band shows they're not going anywhere. Though they've been in the business for around 20 years, Kasabian has continued to grow and top the charts with every release. Almost every track is catchy and filled with disco beats that make you want to dance. Though it lacks the distinct sound Kasabian has, it still proves to be a great record.
"All Through the Night" is a space rock medley. Its soothing beats create an exterrestrial mood, a trend that seems more popular with recently released music such as with Gorillaz's Humanz. "For Crying Out Loud' has strayed from Kasabian's indie rock style, but its mainstream sound is still a bop. "Wasted" is the jewel of the entire album and is definitely worthy of being a summer favorite. It's simplistic, romantic and the epitome of what you would hear at a music festival. "Good Fight" seems to give off a Beatles-esque vibe and is another personal favorite.
Tom Meighan, the vocalist of the band, said that the "album probably saved his life" in an interview with NME magazine. The album took around six weeks to be made, yet Meighan has said, "I say it on every album but I think this is our best record, bar none." Arguably, their 2006 album Empire has been their best so far. However, their first album, Kasabian, has been noted to be the most successful by many reviewers.
Overall, For Crying Out Loud has received quite a bit of backlash from critics. This is likely due to the distinct change in sound the band has created with this new record. Yes, it is different, but that doesn't mean it's bad. There are a few songs that aren't up to par with Kasabian's potential, but they're still enjoyable. The album is relatively mediocre, but pleasing nonetheless.