'Saturation II' exceeds high expectations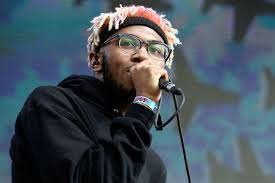 Sequels tend to never live up to the expectations set by their prequels. None of Son of the Mask, Star Wars: The Phantom Menace or The Matrix Reloaded are critically acclaimed; however, there are obvious exceptions, and Saturation II is one of them.
Just two months after their Jun. 19 release, Saturation, the hip-hop boy band BROCKHAMPTON is back and better than ever, however improbable that may have been. Members JOBA, Matt Champion, Dom McLennon, Kevin Abstract, Ameer Vann and Merlyn Wood have chemistry that is unrivaled by other groups in the hip-hop industry.
Saturation II's Aug. 25 release forced it to compete with other hip-hop albums releasing on the same day, such as Luv is Rage 2, Blue Chips 7000 and Cozy Tapes: Vol. 2, but it outshines all of them as the best album. Its consistent yet diverse sound and strong individual verses also makes it one of the best albums of the year.
Prior to the release of the album, BROCKHAMPTON released four singles accompanied by music videos to hype up fans: "GUMMY," "SWAMP," "JUNKY" and "SWEET," all of which were also included in the 16-track album.
The opening track, "GUMMY," begins with a classic movie-theatre style intro, with a big string orchestra sound, then abruptly transforms into a hard-hitting banger. Abstract perfectly summarizes BROCKHAMPTON's style with one of the first lines of the album: "That replay value go off — that make my value go up." Saturation II's replayability is one of its defining characters.
Though middle tracks like "JELLO" or "CHICK" don't shine as much as others, they do exhibit BROCKHAMPTON's ability to make every song replayable and hard-hitting.
The album is very well-paced and assembled, more so than the original Saturation, and shows more of the group's unmatched chemistry and work ethic. According to Abstract's Twitter, the group had recorded over 200 songs for the album, but only 16 made the final cut.
BROCKHAMPTON's upbeat and bassy trademark sound shines on songs like "GUMMY," "SWAMP" and "SWEET" where verses are tailor-fit to be in the song.
The two members whose lyrical ability and technique particularly shine on this album are Vann and McLennon. On "TEETH," Vann raps over a dark, Queen-esque a cappella beat and absolutely destroys it. On "FIGHT," both Vann and McLennon trade verses and flow extremely well together.
The anger against racism the two grew up with is very apparent on this track, with Vann stating, "All them boys they killed, they look just like me — not like Brandon or Chandler, but Malik and Kareem." Vann is stating that African American people are born with targets on their backs, and he rose above it.
The group's chemistry also leads to the dynamic sound from song to song; from JOBA's singing to Abstract's catchy hooks, Wood's aggressive verses to just straight rapping from McLennon Champion and Vann, this group does it all.
Saturation II's lack of features does not hinder its performance whatsoever, it only provides more platforms for BROCKHAMPTON's individual members to shine.
Whether you want to bump an album in the whip or headbang for thirty minutes straight, Saturation II is the album for you.
BROCKHAMPTON's Saturation II gets a 9/10 for their strong lyricism, great beats, and consistency, as well as their ability to be dynamic, however contradictory that may sound.
STANDOUT TRACKS: GUMMY, TEETH, SWAMP, TOKYO, FIGHT, SWEET
TRACKS YOU CAN LIVE WITHOUT: GAMBA
FAVORITE LYRIC: "DON'T CALL ME STUPID THAT AIN'T THE WAY MY NAME PRONOUNCED" – Merlyn Wood, "SWEET"