The Neighbourhood turns you into a 'Devil's Advocate'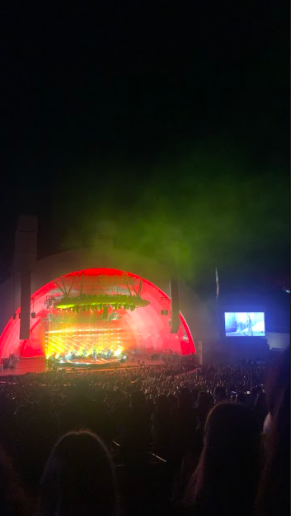 On October 9, 2021, the Hollywood Bowl ignited with smoke, fire and good energy.
The concert was supposed to begin at 7:30, but that's when the opening acts began. Dora Jar and Yeek were among the numerous opening acts, who play the same style of music as The Neighbourhood. 
The concert started at 9:00, and they opened with the song Pretty Boy, from their newest album Chip Chrome & The Mono-Tones.  
Chip Chrome & The Mono-Tones wasn't the only album played at the concert. A mix of every album on their discography made an appearance as well. 
Lead Singer Jesse Rutherford stepped onto the stage and illuminated the night with his presence. He was dressed in a shining silver suit and had his face painted with silver paint. The rest of the band members wore all black outfits, but didn't shine any less. 
Their music was even more immersive live, with the usage of speakers and lights. The stage was shaped in the shape of a house, which is on the cover of their debut album I Love You. 
The crowd was on their feet the whole time, bellowing all the lyrics to every song being performed. At one moment, everyone had their flashlights turned on and were slowly swaying to the music.
After being on lockdown for so long, concert goers were ecstatic to see the band perform live again and that contributed to the good energy of the concert. 
Since it was their first time performing amidst the pandemic, out of the ordinary things were bound to happen. Lead singer Jesse Rutherford swung from a microphone hanging from the top of the stage. 
The entire crowd exploded into cheers, which only encouraged the lead singer. 
The end of the concert was bittersweet, ending with the songs Daddy Issues and Stuck With Me. There was fire, flashing lights, and sore throats by the end of the night. 
The only problem with the concert had to be the exit. There was a swarm of people trying to exit the stadium, and many people had taken their masks off in the middle of that chaos. There was a large lack of organization on the exit part, when the entrance was much more planned. 
The concert was an incredible experience regardless of the end of it, and others attending upcoming concerts can be impressed with the show being put on.