'Vale' brings out the best of Black Veil Brides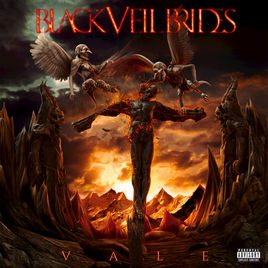 Hang on for a minute...we're trying to find some more stories you might like.
The rock band Black Veil Brides from Hollywood, California has released a 12-track album this month entitled Vale, which comes 3½ years after their fourth, self-titled album and the release of a live concert film.
The album begins with a 20-second spoken track, "Incipiens Ad Finem." In no time, the second song, "The Last One," begins with a soft medley that quickly transforms into a heavy riff. A catchy chorus, "I swear this time is gonna be the last one, gonna be the last one!" captures the listener's ear. An interlude that is just as rememberable is followed by an excellent guitar solo.
The band made sure to include references to the 2016 United States presidential election on tracks such as "Wake Up" and "The Outsider." The former details the division in the country while the latter depicts the feeling of disenfranchisement that many voters felt.
The softer side of the band is shown in songs like "When They Call My Name" and "Vale (This Is Where It Ends)." Vocalist Andy Biersack's voice shows lots of emotion in these tracks, especially since the former is dedicated to the band's fanbase. A phenomenal guitar solo is also featured on said song which is exemplative of lead guitarist Jake Pitts's creative abilities.
"Dead Man Walking (Overture II)" is an 8½-minute song that is sure to become a favorite among fans new and old. Inspirational lyrics are followed by Jinxx, the rhythm guitarist, joining in with a solo violin piece at the end of the song that plays the rhythm of many of the songs on the album.
"Our Destiny" features an appealing chorus and verses that make one feel like they are part of an ongoing battle due to lyrics such as "We're going in for the kill; no defense." "Throw the First Stone" is a heavy, Pantera-influenced track that arguably has one of the catchiest choruses in the band's history.
"The King of Pain" features a great guitar solo and joins with the rest of the album in being memorable. "My Vow" comes just short of three minutes and seems rather generic when compared to the rest of the songs but is an enjoyable track nonetheless. "Ballad of the Lonely Hearts" maintains the catchiness of the other tracks and includes a lot of shredding in the guitar solo.
Vale definitely shows the matured sound that Black Veil Brides has evolved into and is an album that features a variety of elements from the band's previous records. It has a bit of everything, from soft ballads to heavy riffs and breakdowns. Thankfully, the time that the band spent without producing a new record proves to be worth the wait after all.