Sam Smith thrills his audience with a fantastic new album
With an old soul and powerful voice, Sam Smith never fails to capture the hearts and souls of those who are brokenhearted. He often describes love as hopeless and impossible while at the same time convinces his audience that love is worth the fight and that there is a way to overcome its struggles. These contradicting ideas of love appears in his first album In the Lonely Hour and is definitely embodied in his most recent, The Thrill of It All, which was released Nov. 3.
In the Lonely Hour was released in 2014, and a year later, Smith sang the featured song, "Writings on the Wall," in the 24th James Bond movie, Spectre. Since then, Smith took a break from music, telling Deadline, "I just want the music to be right… I'm just trying to get to the bones, to the core of what I want to say in this next record. That's my plan." Fans waited three years for Smith to release his second album.
His first single from the album, "Too Good at Goodbyes," hit number 5 on the Billboard Top 100 charts and number 1 on iTunes the day it was released and has remained in the charts for nine weeks straight. When The Thrill of It All was released, it hit number 1 on the iTunes chart and has remained there for five days in a row.
In The Thrill of It All, Smith sings about love and heartbreak, but this time not just romantically but in terms of family and religion. His second single, "Pray," is about how he was never really religious and didn't have a strong faith growing up, but that he realized that he needed God and that he should pray more. His sixth song on the album, "HIM," opens with "Holy Father, we need to talk" and then continues to talk about how Smith is in love with a man and that he won't change, even if that means betraying God. "Scars" is about his mother leaving him as a child and his father being the one who raises him. Instead of shaming his mother, he embraces her and praises both his parents.
Smith ends the album with a more optimistic view, but doesn't sugarcoat anything, with his song "One Day at a Time." He acknowledges that time has passed and that he misses that. He then says that he can reconcile with this person and that they can both sit down, relax and reminisce.
With anticipation and expectation at an all time high, Smith does not fail to give the fans what they want, making his album a huge success. Love is always a chilché in albums, but Smith delivers it differently every time, reinventing his style different. In this album, Smith features more backup singers who harmonize with him, which is comparable to gospel singers. This complements his voice very well.
Smith seems a happier and more confident person on this album, which is apparent in both his songs and voice. This makes the The Thrill of It All more enjoyable to listen to. Smith's voice range is phenomenal — capable of hitting high notes effortlessly. He is timeless and will go down in history as one of the most talented and humble artists in the industry.
About the Writer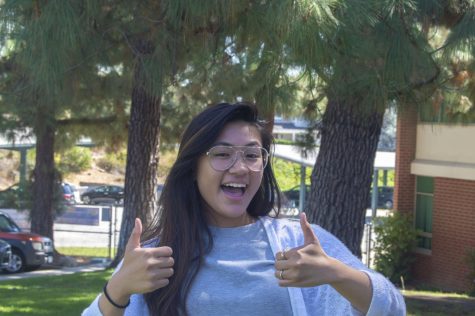 Isabela Lacsina, Managing Yearbook Editor
Hobbies: Playing guitar and traveling

Favorite shows: Queer Eye, Jane the Virgin, Riverdale

Places you want to travel to: Greece

Items on your...