After five long years, P!nk is back with a new, heartfelt album
P!nk's New Album: Beautiful Trauma
Beyond any expectation, P!nk, the definition of a true artist, returns with a spectacular new album, Beautiful Trauma. Though it has been five years since her release of The Truth About Love, P!nk's hiatus hasn't changed her powerhouse vocals or her intriguing personalities she brings to every song on this pop album.
Detailed in her tweet, the reason for a controversial title in 2017 is because "life is f***ing traumatic. But it's also incredibly beautiful, too. There's a lot of beauty still and beautiful souls. Enjoy [smiley emoji]."
"What About Us", P!nk's fourth track on Beautiful Trauma, immediately gained popularity after its initial release on Aug. 10 and the 25th spot on the Billboard's Hot 100 Chart. Although the ecstatic vocals highly popularizes the song, it remains a political statement asking a rhetorical question, "What About Us?"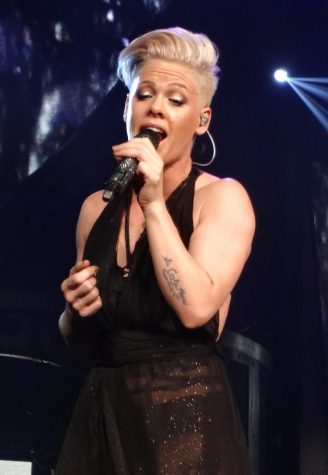 While P!nk expresses the world's injustice though her dramatic chorus, "What about us? What about all the times you said you had the answers?", she politically undermines the president of the United States asking what about all the promises he has made. However, P!nk acknowledges the struggles both the world and individuals face. "Sticks and stones, they may break these bones But then I'll be ready, are you ready?" Though faced with hardships of all kinds, P!nk tries to unify the global community inferring that we shouldn't allow personal burdens to chain us down rather strive for unity and seeking love.
"Beautiful Trauma," P!nk's first track on Beautiful Trauma, is different from the political statement track "What About Us." She embraces the love around the world through trying to unify our country, and this song personifies the addictive sense of love P!nk tries to share. P!nk constantly repeats "My love, my drug" in "Beautiful Trauma" during the chorus where expresses her addiction for love.
Furthermore, she encourages individuals to share their love immediately after the chorus, "These tough, Times they keep coming," which implies that even though the world is in a tough situation right now, P!nk resolves the problematic obstacle through encouraging others to unify in love.
P!nk, an incredible songwriter, created Beautiful Trauma with an emphasis on emotional and political statements in response to all the negative controversies in the U.S. — LGBT suppression and Trump slowly dismantling Obama's legacies; she encourages combatting dire situations with endearment for one another rather than the spreading of hatred. The motivational message P!nk forms with her passionate voice allows the listener to experience an adventure of emotions from tragic anger to spiteful love.