Don't Drake and drive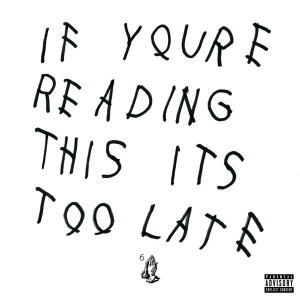 A la Beyoncé circa 2013, rapper Drake dropped his 17-track mixtape, If You're Reading This, It's Too Late, unannounced on Feb. 12.
Seriously, no one saw it coming.
(He reportedly made $360,000 within the first 20 minutes of its release on iTunes.)
Everyone thought Views from the 6 would be Drake's next project, so it was a shocker when If You're Reading This came out with no prior announcement. Rumors have it that all 17 tracks didn't make the cut to be on Views, and were put on a mixtape — a mixtape Drake also considers an album, which would fulfill his four-album contract with Cash Money Records and subsequently allow for his release from the label, which is heading towards bankruptcy.
Speculations aside, these supposedly "rejected" songs are not half-bad. The tape includes some collaborations between Drake and PARTYNEXTDOOR, who is signed to the former's OVO Sound record label, Travi$ Scott (a protegé of Kanye West, who, incidentally, is a friend and inspiration of Drake), and of course, Lil Wayne (Drake's mentor).
Honestly, the title of the tape is a double entendre (it has split meanings). First, there's the whole conspiracy theory fiasco involving why this release is both an album AND a mixtape. To his fans/audience, it's a mixtape. Views from the 6 is the real album, which will be released after he is no longer with Cash Money Records, a label notorious for short-changing artists and not completely paying their dues. Many artists, especially Lil Wayne, the "cash cow" and "talent scout" of the label, are leaving the company, suing the company, or both. By the time the label reads Drake's "two weeks' notice," it'll be too late.
Stylistically, this mixtape/album is nothing short of a masterpiece. If the phrase "if you're reading this, it's too late," sounds familiar, it probably is because you've stumbled across a chain-mail letter with a message meant to scare you at least once when you were younger. The songs are all reminiscent of rap in our younger days — very little use of Auto-Tune (unlike, say, Kanye West's 2013 release, Yeezus), slow, catchy beats, and lyrics that don't solely focus on girls, money, and drugs. I give it a solid 9.5/10, especially because I could listen through the entire 69 minutes without skipping a single song.
"
Stylistically, this mixtape/album is nothing short of a masterpiece.
— Chelsea Santos
Now, Drake has refused to release explicit diss tracks in response to other artists' attacks on him, but he still responds, he's just… more subliminal about it. "6PM In New York" hints at a retaliation towards fellow YMCMB rapper Tyga, who, in a 2014 interview with Vibe magazine, said, "I don't like Drake as a person. He's just fake to me. I like his music; you know what I'm saying? I think his music is good, but we're all different people."
In "6PM," Drake raps, "I heard a lil lil homie talking reckless in Vibe/ That's quite a platform you chose, you shoulda kept it inside/ Oh you tried/ It's so childish calling my name on the world stage/ You need to act your age and not your girl's age." This is a dig at how Tyga should be mature and act like the 25-year-old he is, and not seventeen like his alleged girlfriend, Kylie Jenner.
In the same song, Drake calls out rappers who care less about the music and more about their appearance. "I know rappers that call paparazzi to come and get 'em/ To show they outfits off, guess they need the attention/ I remember when it used to be music that did it/ But then again times have changed man, who are we kiddin'?" This might be a reference to rappers such as A$AP Rocky, who has called himself a "fashion killa" more than once.
Yeah, times have changed. But Drake has made it clear that he's sticking to his roots and not turning into a sellout like many of his aforementioned peers. He still makes the type of music that sometimes makes you want to cry and call your ex-boyfriend or girlfriend in tears, and then cry some more. So with that, here's a warning: Don't Drake and drive, kids.