The Vamps take their first bite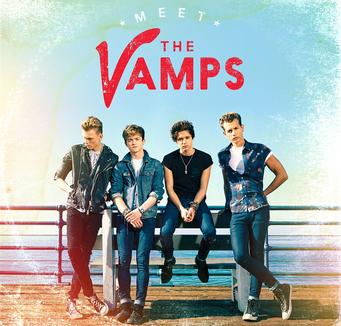 With the onslaught of new bands emerging from across the pond and down under (ahem, One Direction and 5 Seconds of Summer) up-and-coming British pop band The Vamps released their  debut album, Meet the Vamps, on Nov. 9 of last year. Please do not dub them as a boyband. By definition, a boyband is "a vocal group consisting of young male singers, usually in their teenage years or in their twenties at the time of formation." Note, vocal group. These boys play their own instruments. Even if it's hard to admit, yes, they are indeed a band.
I first heard their lead single, "Can We Dance," almost two years ago whilst I found myself once again wallowing around the depths of YouTube after regretfully typing in "One Direction" into the search bar. The song has all the makings of a classic hit pop song — it's catchy with a good beat, and the vocals are pretty much spot-on, what with lead singer Brad Simpson being reminiscent of a younger, baby-faced Harry Styles.
Okay, maybe a part of the band's appeal can be attributed to the fact that all four of them, from James McVey (lead guitarist) to Connor Ball (bassist) to Tristan Evans (drummer) to Brad Simpson (my favorite), are all attractive — which is an understatement — teenage boys. This plays along to the marketing strategy of targeting the demographic of young girls and their teen counterparts, which is a large bracket. There's few things more appealing to a typical girl than a cute boy playing an instrument and singing about his feelings (usually).
But that shouldn't discredit this band for the work they've put in. The Vamps originally just posted covers of songs on YouTube, and once they had generated enough attention, the rest was history. Stylistically, they seem to be a cross between their Australian counterpart, 5 Seconds of Summer, and of course, One Direction (who don't they influence?), yet they still have a sound that's just their own. I could have sworn I heard a ukulele or two in the background while I listened to the album. And you can't accuse them of being a manufactured artist made to please the masses of Top 40 enthusiasts. Save for, like, three songs on the album, the rest of it is pretty much penned by the band themselves.
"
The Vamps originally just posted covers of songs on YouTube, and once they had generated enough attention, the rest was history."
— Chelsea Santos
For a debut album, their material is quite impressive. Sure, many a girl of this generation has begun to stray away from "guilty pleasure" music (i.e., songs you don't want anyone knowing you actually like), but once in a while I like to indulge myself with tracks off the album like  "Last Night," a day-after-the-party anthem, and "Risk It All," a cliché ballad-type declaration of love. It's all about perception. You can choose to frown upon an artist, in this case, The Vamps, just because they look like another bubblegum pop one-hit wonder, or, you can overlook their (incredibly good-looking) image and just enjoy the music.