After three long years, The Cab returns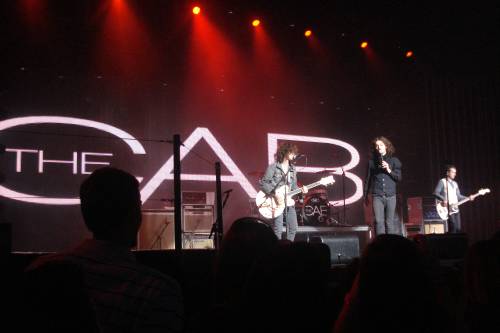 Fans of The Cab have waited three long years for new music, and the band finally released a new EP titled Lock Me Up in April 2014. The band began working on the EP in late 2012, after they announced their record label change.
The title track on the EP is vaguely similar to some of the songs on The Cab's previous album, Symphony Soldier. Unlike the other tracks, "Lock Me Up" has a more alternative sound to it. However, changes in the style of music are pretty evident in this track. It almost serves as a transition from the previous album to the rest of the track.
The second song, "Moon," contrasts the alternative sounds from Symphony Soldier and Whisper War with an electropop beat. It is the catchiest song on the record, and it also stands out from the other songs.
"Numbers" and "Stand Up" have a more R&B meets pop sound. "Numbers" serves as the slow ballad of the EP. "Stand Up" is upbeat, catchy, and makes you feel good, but is my least favorite track on the EP. The biggest turn-off for this track is what sounds like Alexander DeLeon almost rapping. "These Are the Lies" is the break up song on the EP. It is another one of the catchier tunes on the EP. The bridge really had me nodding my head along to the beat.
The Cab have really strayed from their alternative sound. Although I hate to admit it, the new R&B sound goes well with Alexander DeLeon's vocals. This new release is catchy, but it sounds nothing like The "old" Cab that many fans are used to.