New Harry Potter prequel comes out with a bang and spreads its magic on the bigscreen
Hang on for a minute...we're trying to find some more stories you might like.
J.K. Rowling's screenplay Fantastic Beasts and Where to Find Them was recently released as a incredibly magical film, produced by Warner Bros. Pictures. Just like the Harry Potter films inspired by Rowling's books, this screenplay adaptation was also directed by the same director, David Yates. The film was released on Nov. 18 in both 2D and 3D, and has created excitement and anticipation in all the Potterheads out there.
The movie takes place in 1926 and acts as a spin-off prequel of the Harry Potter series. The plot starts off with a peculiar British wizard named Newt Scamander (Eddie Redmayne). Scamander appears very much connected to his mysterious briefcase as he enters the big city of New York. He's only meant to be there for a short amount of time before he makes his way to Arizona, but a series of events delay his trip.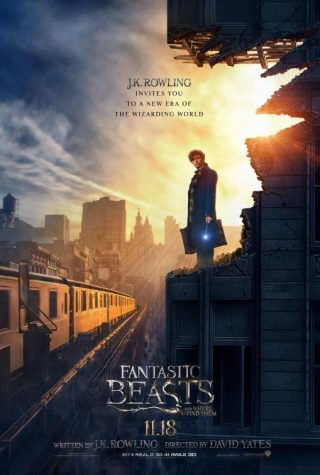 On his adventure he is confronted with a No-Maj, a human with no magical ability (American way of saying Muggle), named Jacob Kowalski (Dan Fogler). The two are then soon joined by Tina Goldstein (Katherine Watson). When Scamander's case is accidentally switched with the no-maj's, the creatures that lurk inside are released.
Tina tries to arrest Scamander for endangering the exposure of the Wizarding World to the No-Majs', only to be dismissed from Madam President and the rest of the police force. When they find out about the accidental switch up, they find an injured Jacob in his apartment and take him to Tina's house. There they are introduced to her sister, Queenie Goldstein (Fine Frenzy). They go through many turns of events and experience excitement, fright and sorrow together, including encounters with the mysterious young boy, Credence (Ezra Miller).
The film unravels many secrets and brings out great qualities in all the characters. The film's special effects are impeccable and the magical worlds within it are created with lots of vibrant colors. The acting is remarkable and and all the cast and crew put in a great deal of work into bringing the screenplay to life.
The movie gets a bit confusing at times, as it seems like there is too much going on. One must really pay attention to understand the film's concept. A background story for each of the three main characters would also have helped the audience connect with the characters.
Nonetheless, this is an incredible movie and has drawn the attention of people of all ages. This is a great film to watch with family and friends. With having a budget of $180 million, the Harry Potter prequel has been doing well, as expected, and within just two weeks of it being released it has passed $500 million at the global box office.