'The Nutcracker' brings Christmas spirit to the Alex Theatre
The Nutcracker ballet is loved by many people, from young to old. The Los Angeles Ballet performed their annual The Nutcracker ballet at Glendale's Alex Theatre on Dec. 1. By welcoming the Christmas spirit to Glendale, the Nutcracker performance was one everyone was excited to watch. The audience was dazzled by the hard work these dancers showed on stage and the beauty of what is ballet.
The Nutcracker is a famous ballet known by many people around the world; however, this performance did show some confusion of the beloved story. The Nutcracker is about a little girl named Clara and her adventure through the new dimensions of nutcrackers, mice and snowflake ballerinas.
One of the "realms" of this version of The Nutcracker world resembles an Arabian city, which I do not recall from the original Nutcracker. Also, the background of the story was confusing. You couldn't really see the main point since there was so much going on stage.
Although the Los Angeles Ballet gave their own touch to the story, the original take on The Nutcracker lacked luster compared to the original. Besides a confusing setting, Act 2 felt rushed, and the music didn't help. The audience was looking for a powerful and storytelling composition, but instead, it provided generic orchestra music, with no uniqueness.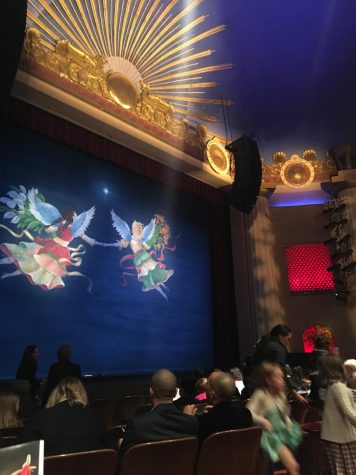 Regardless of the music and the setting confusion, I was greatly impressed by the grace of the dancers. When the main dance, "Waltz of the Flowers" came on, the audience was truly shocked by the beautiful dance moves these dancers showed and the elegant figures that resembled the true purpose of ballet. From the sparkly dresses to the detailed props — including the decorative Christmas tree, and the outfits of 1812 — you could tell that behind the curtains, the whole production of The Nutcracker was both a family and a team effort.
The Los Angeles Ballet showed their own version of the ballet by adding a few hints of Southern California by adding a Spanish-style house and the moonlit Pacific Ocean. The performance included some humor with mice dancing and playing around the stage. The exquisite choreography had the audience talking, even when paying for parking in the parking lot. The choreography was the main reason many people loved the performance, especially during "The Waltz of the Flowers."
Apart from the confusing setting, Los Angeles Ballet's The Nutcracker is the one to see this Christmas. With performances at the Dolby Theater, Royce Hall at UCLA and Redondo Beach PAC, it brings families together.