GUSD Superintendent Ekchian hosts virtual discussion in celebration of Women's History Month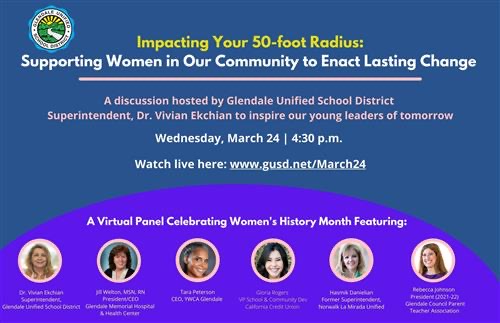 Similar to past GUSD panels, the Women's History Month panel was held March 24 through a virtual Zoom meeting. Hosted by Superintendent Dr. Vivian Ekchian, it consisted of five distinguished female guests who spoke on topics such as leadership, community involvement and representation.
Dr. Ekchian first introduced the panelists and gave them the chance to share a few words. She then asked a question about leveraging careers that led to an insightful discussion.
Dignity Health – Glendale Memorial Hospital President and CEO Jill Welton began by speaking on her career in healthcare. "I started out as a nurse and really quickly learned the impact that you can have on patients and their families," Welton said. "It's really about coordinating, communicating [and] building relationships within the community."
Dr. Hasmik Danielian, former principal of Hoover High School and Toll Middle School, expressed great pride in Toll becoming one of the first triple-crown winning schools in the state under her leadership. "My entire team leveraged what we had in order to create and promote pride and confidence in the school," she said. Other panelists spoke about similar ideas of building bridges, serving the community and promoting issues of importance.
Panelists spoke about their female role models in which there were common themes of mentorship and inspiration.
YWCA Glendale CEO Tara Peterson was inspired by her high school basketball coach. "She really helped create the pathway of the work that I do now. She was my first female coach in high school, and she was just such a fierce advocate of women's rights," Peterson said. She also spoke about her experience working in a women's organization that has helped her in leading the YWCA.
The next question focused on the importance of representation, identity and diversity in the growing community.
School and Community Development Vice President Gloria Rogers explained how representation helps the youth know they're not alone. "So many times we have personal struggles, and we think we're the only ones facing [them]. When we are able to connect to a leader who had similar challenges…it's important," Rogers said.
Peterson and Welton also mentioned the importance of diversity in representation leading to Dr. Ekchian's next question about taking action to build an inclusive and cohesive community.
Current PTA President Rebecca Johnson expanded on the idea of combating implicit biases. "We need to work on ourselves," she said. "We need to look at people as individuals and not just lump them into groups.
Other speakers focused on the significance of compassion and empathy. "We can also just start with the very fundamental framework of having compassion for folks," Peterson said. "It can be as simple as having a flag in your window…the posters on your wall.
The final question centered on advice for middle and high school students in supporting women to enact lasting change. The panelists talked about involvement, support, passion and opportunity. "When you find a passion…you can't help but be a positive impact," Welton said.
As the discussion drew to a close, viewers were able to ask questions, involving advice for starting and finding career pathways. One viewer asked if a moment could be taken to recognize stay-at-home moms, in which Dr. Ekchian responded with an "Absolutely."
The discussion ended with parting words of encouragement from the inspiring women on the panel. "The road to leadership or success is not an easy one," Peterson said. "Just know that, [with] everything you have gone through this last year, you are resilient."