La Cañada's Fiesta days parade reels in families on Memorial day
Hang on for a minute...we're trying to find some more stories you might like.
Although the weekend's ominous weather threatened the onset of the day's festivities, groups of onlookers and families lined the curb of Foothill Boulevard holding umbrellas, picnic chairs, blankets and a multitude of American flags. In the midst of the crowds sat three-year-old Matthew Barltrop of Pasadena eagerly anticipating the parade's start with his family who have attended La Cañada's Fiesta days Parade since its beginning three years ago and see the parade as an annual family tradition commemorating veterans in their community.
The 4th Fiesta Day Parade in La Cañada Flintridge was held on the morning of May 27 and was part of the 46th annual Memorial weekend Fiesta Days activities. Put on by area Scout troops, this year's parade focused on the theme of "Family First" and stretched from Cornishon Ave. to Gould Ave..
Despite a downpour of rain which almost resulted in the cancellation of the fireworks show the night before, participants breathed a sigh of relief Monday when the blue sky hinted at the perfect backdrop for the parade. The line-up consisted of over 80 participants from multiple organizations within the area from family-owned businesses and cultural organizations to school bands and scholarship awardees.
The parade commenced with this year's host, Los Angeles Times Columnist Chris Erskine, leading the parade and was followed by members of the La Cañada Flintridge Tournament of Roses parade float which this year was awarded the Founder's Trophy. Other performers also included the Korean American Federation of North Los Angeles which performed a traditional Korean wedding in costume while walking.
"I enjoyed participating in the parade because I haven't done anything like this before and I also wanted to spread my heritage to others in a different way then you would normally see it," said Glendale High School senior Joshua Kim, who performed with his dad with the Korean community.
The event also featured animals from local animal shelter trucks to neighborhood pets strutting down the streets. A notable attendee was Yolanda Gartside who brought her massive white duck named "Duckly" to celebrate service animals who help veterans. Students from surrounding high schools also took part in a variety of ways.
Both Crescenta Valley High School's Jazz Band and the La Cañada High School Spartan Band marched along the streets playing national tunes. Student scholarship winners waved their way through the parade such like the Daughters of the American Revolution Good Citizens' Awardee, Kiwanis Club of La Cañada and Assistance League of Flintridge scholarship winners.
However, the stars of the show were the great amount of scouts from toddlers to young adults who facilitated throughout the parade. Girl Scout Daisy Troop 1701 marched with handmade American flags and red, white and blue wings while older scouts helped out by holding signs and by directing traffic in the busy street.
As the parade came to a close, families and visitors migrated to Memorial Park where a local band called the Misplaced Priorities performed raising money for charities in the Verdugo area with food and games for all attendees. "It was a very memorable event, not only for me but in rememberance of those who never came home," Kim said. "It showcases what's to offer in the city in a family friendly way. "
About the Contributor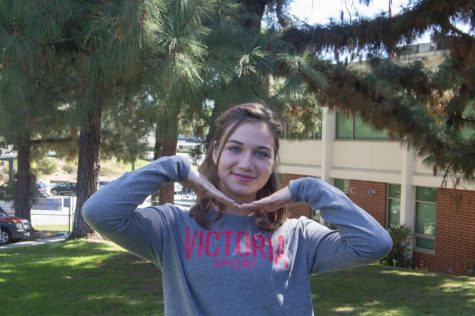 Victoria Bochniak, Website Editor
Hobbies: Reading mystery novels and traveling
Favorite shows: Find me the time to watch shows and I'll tell you
Places you want to travel to: Dubrovnik,...