Glendale Central Library's Mental Health Fest offers information and help about mental health
The Glendale Central Library recently hosted the Healthy Minds Fair which helped to clear up misconceptions surrounding mental health. Dominique Holmes, the Director of Dignity Health, said that people with mental illnesses aren't crazy. "A majority can outthink you and I," she said. "Most mentally ill people are not dangerous, and mental illness is a disease of the mind, just like one can have a disease of the heart or liver."
On May 4 from 10 a.m. to 2 p.m., the library grounds had many booths from different organizations which offer mental health help, from big names like USC Verdugo Hills and the Dignity Health Glendale Memorial Hospital to lesser known names like Asencia, which is based in Glendale.
Organizations that indirectly help people with mental illnesses also were present, such as Asencia, which is an organization that offers aid to homeless people. "A lot of homeless people suffer from mental health issues," said the Asencia representative. "We provide services for them and refer them to other organizations if need be. Our most popular service is the shelter we have in Glendale on Tybum and San Fernando."
The fair attracted people with different experiences. "I was just coming to the library. I didn't know anything was going on," said Bryan, who declined to give his last name. "I started looking around at the booths. Verdugo Jobs Center and Asencia are very helpful since I have a lot of friends that are homeless. I am surprised that the DMV and Assurance (a wifi company) are here with booths, though."
About the Contributor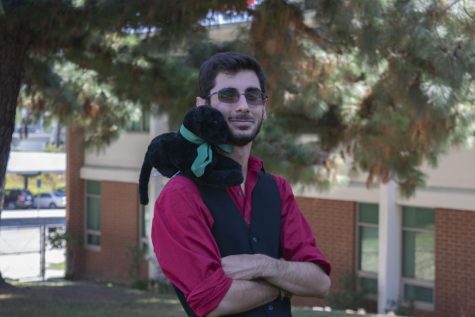 Aleks Zadorian, Magazine Editor
Hobbies/Interests: Playing accordion, reading, studying languages

Spirit animal: Dead rat

Places you want to travel to: Andalusia, Istanbul,...