Students build bridges
"I decided to join [the bridge building competition] because I like designing things and I like engineering," said freshman Christine Nguyen, who won the contest. "It was also an opportunity for me to earn extra credit points and it overall seemed like a really fun project."
The 13th annual bridge-building competition was held on April 1. It was a showcase in which students had the opportunity to express their knowledge in physics and apply the fundamental guidelines in engineering in order to construct a bridge out of two materials: basswood and glue.
Like previous years, the competition had a set of very precise rules that the participating students had to follow in order for their bridge to fully qualify and be entered into the competition. According to physics teacher Gerald Gruss, this year had by far the most rules when it came to building the bridge.
Freshman Jeffrey Lewis said that he was disappointed because his bridge was over the weight limit. "I decided to take some clippers and cut off parts that I felt weren't really necessary. My bridge ended up being 0.06 grams under the weight limit and it was officially a fully qualifying bridge," Lewis said.
There were over 75 entries in the competition. After five days of checking each and every single bridge, there were only nine students who constructed bridges that qualified to be entered into the competition. This meant that these nine students followed every rule that they were required to follow.
"After hearing that there were only 9 bridges that were fully qualifying, I was much happier when I got notified that my bridge was one of them," Lewis said.
There were two main categories that the contestants could win: best design and most efficiency.
After testing all nine bridges, the official winner was finally determined.
"My bridge had an efficiency of 429, making me the winner of this competition. I was honestly shocked when I heard that my bridge had won first place. Those three hours that I dedicated to building my bridge really paid off. I felt accomplished and extremely happy," Nguyen said.
The winner for best design was junior Nicole Avakian.
Many students participate in this competition each year, not really knowing what to expect. "Although I did not build a bridge to participate in the competition, it was really fun being able to test the bridges during class," said freshman Wafaa Merzougui. I learned a lot about the different types of designs that can be made in order to make the bridge stronger. This made me realize that I might even enter the bridge building competition next year."
About the Contributor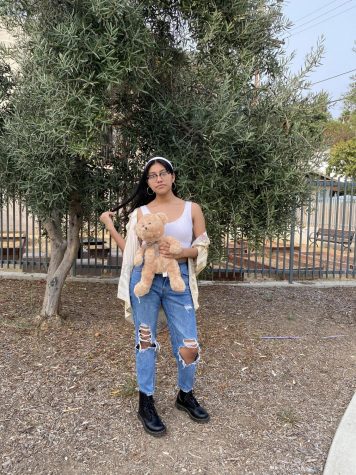 Emili Cruz Sosa, Content Editor
Hobbies/interests: Swimming and hiking

Fav artist: Chase Atlantic

Movie you never get tired of watching: Avengers: Endgame

Goal for the year:...