Channeling Armenian pride through poetry
Hang on for a minute...we're trying to find some more stories you might like.
The Man's Inhumanity To Man Poetry night at the Glendale City Hall took place on Tuesday, April 18 and encouraged young Armenians to express their thoughts about the genocide in the form of poetry. " It made me feel proud to be Armenian and proud to be part of the community," said freshman Larissa Assadourian, who attended the event. "I am proud that we recognize the genocide."
Glendale Unified students Soura Aljibouri, Jennifer Anaya, Anyana Avedian, Celin Daniali, Grigor Ghazaryan, Sofya Harutyunyan, Hayk Papikyan, Juliana Priester, Milena Rizer, Monica Stopani and Farah Tamin read their poems. "My favorite poem was by Anyana," said freshman Arpa Zargarian. "It was very touching and made me realize things about my own heritage and history that I hadn't before."
Between the recitings, a musical duet of a harpist and a flute player entertained the audience with traditional Armenian music. The flute player, Salpy Kerkonian, is known for her work with Andrea Bocelli, and the LA Philharmonic. Kerkorian said that she was pleased to be taking a break from touring around the world and to be playing at this event. "I'm very moved by the poetry I heard this evening," she said. "The poetry I heard from the youth inspired me to believe that we can somehow look forward to a future of peace without war and human suffering."
Glendale High School Junior Sofya Harutyunyan admitted to feeling nervous through her poem reciting. "I was pretty nervous and my voice was trembling," she said. Harutyunyan said that her English teacher told her about the poetry night. "In my English development class at Glendale High school we usually do things like this, so my teacher encouraged me to participate." She was cheered on by multiple GHS teachers as she walked on and off the stage.
Eliza Papazian, Community Outreach Assistant for the City of Glendale's Management Services Division, was the coordinator of this year's poetry night. The city has only held two poetry nights so far. She said that she worked diligently to make the night a success and she invited special guest speakers such as the Mayor of Glendale. Papazian said that her love for GUSD children and families inspired her to coordinate this event. "It felt amazing," she said. "I love being able to recognize the kids in our community and the work that they do."
Many of the audience members were students. Junior Urielle Corcuera said that although she is not Armenian, the poems were all very heartwarming. "It was a great opportunity and I learned a lot about the Armenian Genocide," she said.
About the Contributors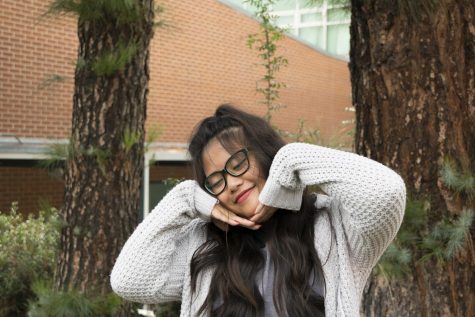 Urielle Corcuera, Photo Editor, Yearbook Section Editor
Interests/Hobbies: fashion, reading, fangirling, reading, doing artsy stuff, reading, reading, reading
Favorite year in music: 18th century-21st...