Students build their knowledge
Mr. Gruss hosts annual bridge building contest
On April 5 and April 6, physics teacher Gerald Gruss held his annual bridge building competition for the 16th year in a row. "I think that it is a wonderful opportunity to apply their physics and engineering skills that they are learning here at Clark to build a real life model of a bridge," Gruss said.
Students are required to build a bridge out of a bundle of popsicle sticks provided to them a month prior. The students are tested on how long the bridge can last without breaking when a bucket and weight is suspended from the bridge. Anybody in the school was eligible to sign up for the extra credit.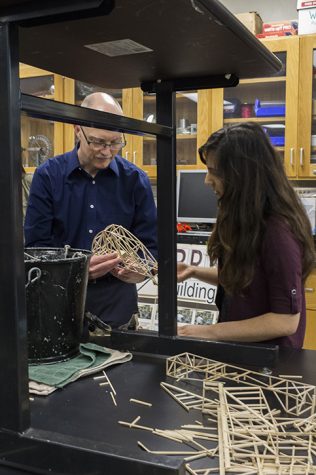 Although the project was assigned as extra credit, many students wanted to do it for the experience itself. "I really wanted to do something new over the spring break," said freshman Lois Ramilo.
"If I could redo the bridge, I would remake the loading part of the bridge because it was super weak," Ramilo said. Although Ramilo was disqualified, she said that she gained a lot of experience and had a lot of fun doing it. "I enjoyed building and designing the bridge," Ramilo said. "And learned what it would be like to be an engineer and using my knowledge of physics to do so."
The first place winner this year is junior Melanie Mesropian, who also won for best design. The second place winner is junior David Lopez. Both students are from Gruss' AP Physics class. The third place winner is freshman Allyson McCullagh.