Clark student attends Shakespeare competition semifinal
Amidst the roaring chatter of the crowd, junior Karina Khachaturova hugs English teacher Jennifer Davis. "Good luck, Karina," says Davis as Khachaturova joins the second group of 12 other contestants walking backstage.
The noisy crowd, consisting of about 30 people, became silent when the second group of contestants began their performances. In front of them were three judges — Mary Cobb, Alexandra Helgerson and Clayton Hodges. Khachaturova walked to the stage and introduced herself. When the judges gave her the signal, Khachaturova recited a soliloquy from Twelfth Night, the same speech from the Shakespeare competition at Clark, and Sonnet 145.
"I'm so proud of her performance," Davis said after the performance. "I happen to be one of those that don't like a lot of, for lack of a better word, overacting on the stage, and I thought she portrayed the emotions really true to the way it would be."
"It went well," Khachaturova said. "Not as good as I thought it would be, but I'm satisfied."
The Shakespeare competition was held Feb. 20 at Marlborough School by the Los Angeles branch of the English-Speaking Union of the United States. Clark Magnet High School has been participating in these competitions for three years. This was Khachaturova's first time participating in the event.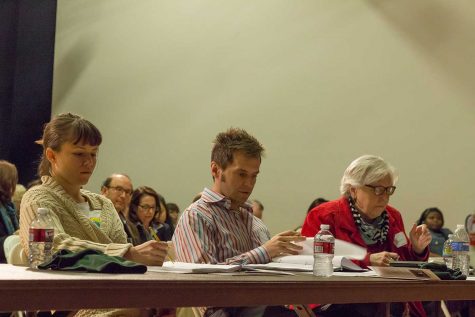 Before beginning the competition, ESU-LA board member Louis Fantasia introduced the judges and himself. Fantasia then led the group of students to a room away from the audience. The students were divided into two groups, one going first and the other second. Khachaturova was in the latter group. Fantasia told the students to yell and beat at their chest to get rid of stage fright, ending with breathing exercises.
After all presentations concluded, Fantasia said that the judges would be ready with their decision after a lunch break. Khachaturova used this time to talk to other participants. When the audience was called back, tension brewed in the air. Hodges said that while all contestants did a good job, only six would move onto the nationwide final competition. "It's fascinating that even after 400 years, we still relive the words of Shakespeare today," Clayton said. The judge read the six names and Khachaturova was not among them.
Khachaturova said that she was not disappointed by the loss, saying that she will try again next year. "It was really interesting meeting [the other contestants], some of them were really good," Khachaturova said. "It was fun."