School secretary Mrs. Barbara Melone passes away
Before classes started on the cloudy, breezy morning of Sept. 12, students and teachers alike could hear the intercom announcement of Principal Doug Dall, announcing that all staff come to the cybrary for about five minutes. Something seemed off as several teachers walked down the halls to their classrooms with somber expressions. Into the first period of the day, the teachers delivered the shocking news; senior administrative secretary Mary Barbara Melone had passed away the night before.
"During second period of that day, I could overhear Mrs. Howe and Mrs. Turdjian crying," said senior Issa Al Hadeed. "I could especially hear Mrs. Howe over the phone talking about someone dying of cancer, and I thought one of her relatives died. When I heard the new secretary talking about Mrs. Melone dying, I was just in shock, sitting there in disbelief."
Several teachers with classes that first period explained to students that they had to be especially respectful for the day, as they tearfully passed the news onto the silent students. Later in the evening, office members taped blank white paper to the walls near the office, where students wrote messages to Mrs. Melone.
A quick glance at the messages from students revealed repeated feelings such as "Clark will never be the same with you," "You were one of the greatest secretaries ever" and "I will never meet another person like you." Her guest book online revealed similar feelings as well. "When in doubt, ask Barbara… she was always the go-to person!" said one visitor.
Born on June 26, 1946, Melone began her 39 years of service to Glendale Unified School District as Textbook/Media Aide at Roosevelt Middle School in 1974. In July 1986, she was promoted to Administrative Secretary of the Business Office. In September 1988, she was promoted to Sr. Administrative Secretary at Glendale High School, transferring to Clark Magnet High School in November 1997.
Known for having a specific personality around the school, some of the underclassmen knew Melone as the voice who called late buses, announced bagels in the office or scolded students for being loud in the hall. But anybody who has even talked to her for a couple minutes could see the care that she had for the school and its students.
Her attitude of having a supposedly short-temper could be attributed to molding her students into respectable adults. "Mrs. Melone taught me about work ethic, always taught me to do my best," said guest teacher Debra Hopper. "She really to me was a model of perseverance and purpose. Her purpose at Clark was just huge, she had a huge commitment to all [the students and staff]."
To many staff members, Melone was like a mother, someone they could go to with a classroom issue, or a personal one. "For 13 years at Clark," said biology teacher Virginia Benzer on Melone's guest book. "Barbara has been our rock, our guide, our mentor and our friend and we will miss her every day."
Since 2007, Melone had battled breast cancer. Staying true to her person, she never asked for pity or worried too much about it; she dealt with it, according to Carol Melone Kenton, Mrs. Melone's daughter. "She continued to work at this time," stated Kenton in Melone's on-line obituary. "Her work meant everything to her. It kept her busy." She mentioned that Melone once thought about retirement, but dismissed it, believing that if she did retire, her life would be done with.
The days after Melone passed away felt completely different to many at Clark. In lieu of flowers, donations can be made in her name to the Roy & Patricia Family Cancer Center. Funeral services were be held at St. Finbars Catholic Church on Sept. 20.
"The most important thing I learned in college was 'treat the secretary like gold'," said Hopper. "They are usually the heart of the school, and they run the school. Mrs. Melone was always trying to teach [the students], if you have a rough day, don't just cower in your room and pull the blanket over your head. Keep going, keep calm, carry on. She was such a model of that."
Quotes
"We all will remember the 'Bus 106 has just arrived!' announcement. I miss the walks we used to take during prep time. She would say, 'Come on and let's take a walk.'"
– Mrs. Judy Sanzo
"She was very against bullying. If she saw someone down the hall pushing someone else, she would scream, 'Son, I don't care if he's your brother, cousin or twin. Get your hands off of him!' She was always looking out for the students. She did anything and everything that was needed. She was very good at her job."
– Mr. David Black
"We were the first ones here every day. We talked and had coffee together for 16 years."
– Mr. Randy Tiffany
"I miss the yelling. It's irritatingly quiet without her. There was more order when she was around."
– Ms. Grace Juarez
"When she found out our first daughter was going to be born on Christmas, she suggested that we name her 'Poinsettia', the name of the Christmas flower. Ever since, whenever she would ask about her, she would refer to her as 'Poinsettia.'"
– Mr. Gerald Gruss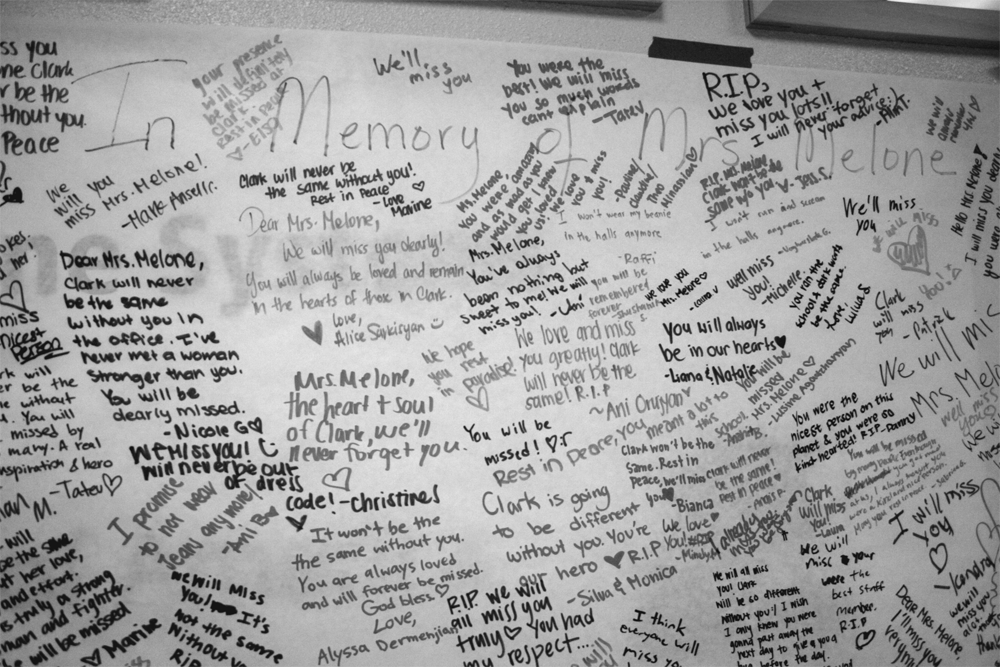 View Comments (3)