Pitchoun Bakery offers a taste of France
A sweet consolement in the depths of the city
Hang on for a minute...we're trying to find some more stories you might like.
In the midst of Downtown, under the shadows of the city's tallest skyscrapers lies an exclusive yet exceptional bakery and cafe. Serving guests with impeccable French bakes and sizzling courses, Pitchoun Bakery is built upon years of family legacy and French heritage.
Frédéric and Fabienne Souliès, the founding couple of the bakery, immigrated from France in hopes of carrying on traditional family recipes to America.
Frédéric, seeking to develop his talent passed on by a family of bakers and farmers, opened up a workplace where he could demonstrate his recipes. Meanwhile, his wife, Fabienne, inspired by her husband's work, innovatively approaches her passion to cook, merging famous dishes with Frédéric's work, thus creating the meals served at the bakery today. With their unique approach to customary recipes, the Souliès' along with their three kids, opened up what is today Pitchoun Bakery where they continue to sell their traditional pastries, artisanal bread and daily specialties.
The bakery is situated across from Pershing Square and can be viewed from afar with its massive sign bearing the word Pitchoun! which means "kiddo" in an old French dialect in Provence. The spacious and cozy interior, along with its wooden, antique facade transports every visitor into the heart of France. As guests await their food French music softly plays in the background while screens play slideshows of picturesque French landscapes. The French aesthetic doesn't end there with the waiters all wearing black berets and orange aprons, easily distinguishing them from the mass of people.
Along the way, the bakery has endured multiple changes to its menu including Fabienne's addition of soups and organic beverages, but the bakery maintained its specific array of daily home-made pastries and bread served hot from the oven every couple hours. From specialty morning pastries, recognized choices include an almond croissant, known for its velvety and flaky texture or a Chausson Pommes, known as an Apple Turnover, for under $4. Along with the sweets, Pitchoun Bakery also provides a wide variety of savory delights like Provencal Eggs which contains two eggs sunny side-up on fried tomatoes and Provence herbs with baby greens and a choice of baguette or country bread toast at $9 or Country Tartine which features French cooked ham and brie with cornichons, unsalted butter and country bread at $7.
My friend and I also decided to sample three pastries: a Millefeuille, a hazelnut-filled St Honoré, as well as, the pastry-of-the-day called Canelé. The Millefeuille had a very crisp and delicate touch with the lightweight, vanilla custard, while the St Honoré contained a heavier cream with a buttery consistency to the chocolate-hazelnut paste. Out of all of the pastries, the Canelé was probably our least favorite due to its dry texture and overly sweet topping. Although tasty, the pastries didn't live up to their cost of around $3 to $4 each.
From the rustic design to the specific French touches, Pitchoun Bakery possesses a lot of personality for a small bakery. Aside from some of its high prices, it makes an admirable place to eat after a day in the city or for a special occasion. Bon appétit!
Pitchoun Bakery
545 S. Olive Street
Los Angeles, CA 90013
Monday – Friday 7 a.m. – 5 p.m.
Saturday 8 a.m. – 5 p.m.
Sunday 8 a.m. – 4 p.m.
About the Contributor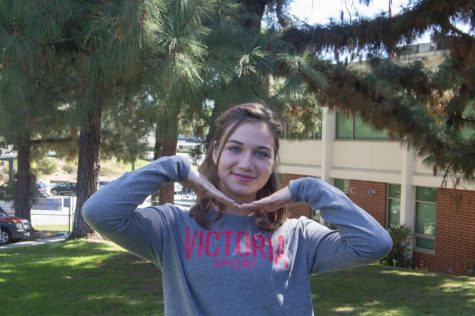 Victoria Bochniak, Website Editor
Hobbies: Reading mystery novels and traveling
Favorite shows: Find me the time to watch shows and I'll tell you
Places you want to travel to: Dubrovnik,...