Giving food for thought
Food banks give a crucial resource to people living with AIDS
Hang on for a minute...we're trying to find some more stories you might like.
By lunchtime, my back ached and my hands felt stiff with cardboard dust, but the job was finally done. 5,936 food boxes, each with several members of each of the food groups and weighing 30 pounds apiece, were stacked on pallets awaiting distribution at 5 a.m. the next day.
About 100 volunteers showed up on a Saturday morning in February to help at the Los Angeles Regional Food Bank, a nonprofit organization that provides food and resources to over 300,000 people each month. The day started at 8:30 a.m. with a safety presentation and a discussion of the food bank's mission statement. The warehouse had several operating forklifts on the floor, so we had to be cautious at all times — a more difficult task when you haven't gotten enough sleep. Luckily there was coffee.
I was assigned to Fruit #1, where I would stop the boxes passing on the rolling table and place two cans of pears, then rinse and repeat. There was barely enough time to open new boxes of pears before the next stream of food vessels came rustling down awaiting the confined fruit. Muffled rollers and tearing cardboard struck a beat to an accompanying DJ, part of a separate volunteer group called Think LA.
For the next three hours, my weak knees were the bane of my existence, forcing me to constantly adjust my posture. Finally (and yet too soon), however, the final boxes trickled down the line, then stopped entirely. We stood around a bit aimlessly as the other four lines finished, then joined in the applause that went around when all the lines stopped rolling.
The L.A. Regional Food Bank, as well as other local food banks, host these volunteer events every week, involving the greater Los Angeles community in preparing the bags and boxes of food that are an important source of nutrition for under-resourced people in Los Angeles. AIDS Project Los Angeles' (APLA) Vance North Necessities of Life Program provides food and other basics to over 27,000 people living with HIV/AIDS in the area. They also host cooking workshops and nutrition counseling, which is crucial to ensure their clients stay nutritionally in the best shape to combat disease, as well as learn proper food safety to prevent foodborne illness.
The impact of food banks is not only felt in the people who directly benefit from the service, however.
"I felt really good volunteering at the food bank because I was so glad to be able to help people, and be able to give out food, and feel like i'm making an impact on someone's life," said Clark sophomore Tania Jangolian. "There were so many kind people there that volunteered with me, and I just felt so welcome". Jangolian volunteered distributing food out to people in need, working out of the backs of trucks to hand out the food.
"We went to mostly apartment types of buildings, and we had a bunch of trucks, and we would get a bunch of boxes and pack it up for people to come by with carts or bags," Jangolian said. She and some of the other volunteers would also walk to people who couldn't make it to the trucks to make sure they received some food as well.
"I think everyone should at least once in their life volunteer at a program like a food bank because it was an eye-opening experience for me."
About the Writer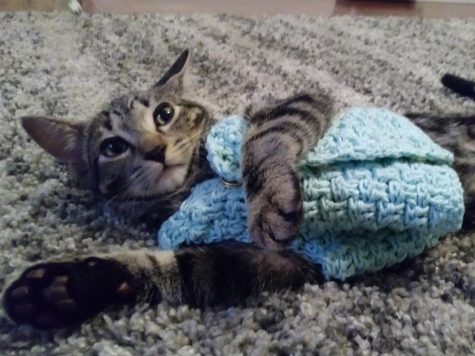 Kasy Vasquez, Executive Website Editor, Magazine Editor
Interest/Hobbies: My cat
Favorite year in music : 2004
Goals in life: To one day lie in a ditch somewhere of a highway in rural Nebraska in...