Students take steps towards becoming better leaders
"Live courageously, make a decision, never give up, and move fast to reach your summit, whatever that may be," said Paul Fejtek, one of the two guest speakers at the 33rd annual Youth, Leadership and the Future Conference. "The achievement of your goal is assured the moment you commit yourself to it."
On Jan. 26, approximately 100 students from high schools in Glendale, La Crescenta and Burbank met with 70 business professionals from our nearby communities at Glendale Community College to participate in this year's Youth, Leadership and the Future Conference. The conference was organized by members of the Character and Ethics Project and through the help of a student planning committee.
After attending the conference last year and learning a great deal about the role that ethics and morals play in leadership, I was honored to be called into Head Counselor Karine Turdjian's office and find out that she had recommended me to represent Clark on the student planning committee for this year's conference. Turdjian informed me that there would be a committee meeting held at the GUSD building on Dec. 11, 2017, where we would discuss details about the conference.
As soon as I walked into the meeting on Dec. 11, the Co-Chairs of the Conference Planning Committee, Leo Zalyan, a Clark alumni from 2011, and Lusine Yarian, a Hoover graduate, greeted me and told me to sign in. I then sat down around the table where there were already three students seated and waited for the meeting to begin. "When we got called into the office at school, I thought we were in trouble or something," said Althea Lumagui, one of the students from Allan Daily High School, while we waited for the meeting to begin. "Neither of us had attended the leadership conference last year, so all of this information was new to us."
After a bit of casual conversation among the students and the co-chairs, Zalyan announced that we would be starting the meeting. There were six other students in attendance besides me: Basil Aranda, Chair of the High School Board from Burbank High School; Grady Schilling from Crescenta Valley High School; Althea Lumagui and Catherine Montes from Allan Daily High School; and Arpi Parsadanyan and Amira Chowdhury, ASB President of Hoover High School.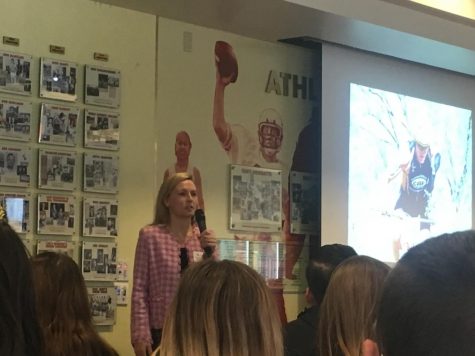 Zalyan informed us about the upcoming conference and outlined what the day would look like. He told us we would have to be at Glendale Community College no later than 7:30 a.m to help with the student and mentor check-in. Zalyan also told us a little bit about Paul and Denise Fejtek, the guest speakers for this year's conference. The Fejteks are a married couple who have climbed all Seven Summits together, and Paul wrote a book about their experiences called Steps to the Summit. They would be speaking at the conference, and the book would be provided free to the students in attendance.
While Zalyan talked about the conference, he went over the different roles that we would have as members of the student planning committee. He needed someone to lead the flag salute, perform the Star Spangled Banner, deliver opening remarks, introduce the group facilitators and guest speakers, and deliver closing remarks. I chose to do the closing remarks so I could thank everyone for coming and show how much everyone's presence that day was appreciated.
The committee meeting concluded once all the roles had been assigned. Zalyan and Yarian kept in touch with us through email, but we did not meet again in person until the day of the event, Jan. 26, 2018.
On Jan. 26, I arrived at Glendale Community College at 7:30 a.m and made my way to the J.W. Smith Student Center, where the conference would begin. Outside the building, a check-in table was set up, where everyone signed in and students were given a program and their own copy of the book, Steps to the Summit. With Tigran Danielyan, another member of the student planning committee, I began helping by directing students where to go and passing out the books and programs.
At around 8 a.m, when a majority of the participants had arrived, Melina Sardar, president of the Character and Ethics Project, introduced herself and talked about the conference. "Challenge yourself today, fully participate, engage in discussions, and speak your voice," Sardar said. "Keep an open mind to learn, and, of course, have fun."
After Sardar's welcome, a few more people talked about leadership and the conference, including Dr. David Viar, the superintendent and President of Glendale Community College; students from the student planning committee; and the Fejteks.
The most inspiring part of the conference for me was hearing Paul Fejtek talk and share his life story. Paul was born partially paralyzed, with his right hand being basically useless. However, his mother was very persistent and did not let this disability get in the way of Paul living his life and doing things that others could normally do. With her support, he grew to believe in himself and learned that anything is possible if you are determined enough. "Success is a journey," Paul said. "With a little creativity and determination, I figured out a way to climb to the top."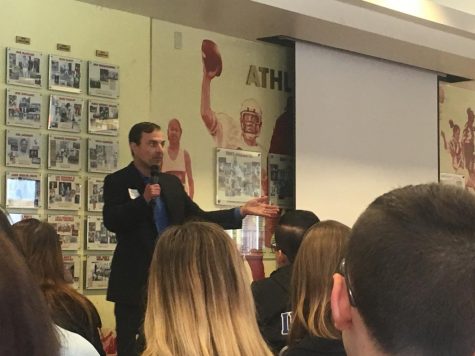 Paul was able to climb all of those mountains with the help of his own invention, "the hook." Paul had experimented with different kinds of braces and casts in the past, but he discovered that attaching the hook of a coat hanger to his right hand was his best option and increased the efficiency of his hand the most, even though it was a simple idea. His main question to us students was, "What's your hook? What creative ideas can you come up with in your life to overcome your obstacles, to reach your summit?"
Paul and his wife, Denise, stressed the importance of teamwork and cooperation. They talked about the tragic ending of 15 people who tried to climb a mountain together but did not know each other well enough to attempt such a difficult task together; each person's strengths and weaknesses were unknown to the others, and there was no sense of trust among the unfamiliar people. "A group of individuals is not the same thing as a team," Denise said.
When the Fejteks finished telling their inspiring story, students and mentors were split up into eight different groups. Each group went to a different classroom and held a discussion there about the role that ethics and morals plays in leadership. They looked at quotes by famous people about leadership, discussed their own thoughts with one another, and connected the topics they were learning about to recent events, such as professional athletes refusing to stand during the national anthem. "I was really intrigued when we were talking about the protests going on in professional sports," said junior Shant Martirossyan, one of the students who attended the conference. "It was eye-opening to be able to relate such vague and ambiguous topics, like morality in leadership, to recent news."
While these group sessions were going on, I, along with the rest of the students from the student planning committee walked around, observing the different sessions and making sure that everything was going well in each classroom. At the end of the conference, when we all reconvened, I delivered the closing remarks and thanked everyone who had taken part in the conference. After the conference ended, students lingered and continued to talk about what they learned in their separate sessions. Zalyan said that he was satisfied with the way things went at the conference and hopes students will apply the lessons they learned to their everyday lives. "I hope students took opportunities today to meet and network with professionals who they are interested in," Zalyan said.