Clark students excel at SkillsUSA
Reflecting on strengths by competing
Hang on for a minute...we're trying to find some more stories you might like.
"This was my first time at a competition. I was nervous beforehand, but I felt comfortable once we started presenting," said SkillsUSA participant Shreeja Guntireddy, a junior from Clark. Guntireddy had the chance to present her water audit map to SkillsUSA judges along with five other students who attended the SkillsUSA career pathways showcase competition on Jan. 27 at Los Angeles City College.
For the competition, Guntireddy stood in front of her desk which had a poster board and three computer screens that she had set up earlier in the morning on a circle of tables inside the SkillsUSA tent. Each group had their own table decorated with presentation materials and props. Contestants stayed at their table during the entire event, while the judges visited each table to assess the work the contestants had done.
I competed in a group of three, which included Guntireddy and Gabriella Solakian. Clark students have been participating in SkillsUSA since the 2016-2017 school year. The competitions are local, state and national, and they help students prepare to enter the workplace and showcase their professional skills. More than 600 businesses and industries support SkillsUSA to help build technical skills in middle school, high school and college students.
Students who are currently enrolled in a Career and Technical Education (CTE) class are eligible to enter SkillsUSA competitions. CTE courses help students understand how skills such as math, science and writing can be applied in real life. Thirty-one students from Clark entered the SkillsUSA competitions this year in the six categories of CNC Milling, Automated Manufacturing Technology, Career Pathways Showcase, 3D Visualization and Animation, and Digital Cinema Production.
Out of all the participants, 19 Clark students won a medal and 28 will be eligible for the California State Conference which will be held on April 19–22 at Ontario Convention Center.
"I had my students participate in SkillsUSA to show our competitive side and also because it is required that we participate in a state competition to receive federal funding," said Matt Stroup, cinematography teacher. "I like the idea of local competitions, but SkillsUSA, especially the website, is rather clunky and esoteric."
The cinematography students did well, as they got third place, according to Stroup.
For the competition, contestants had to follow a strict dress code of wearing a red blazer, a white blouse, black formal pants, black socks and black shoes.
I presented in a group of three under the categories of "Career Pathways Showcase" and "Natural Resources." There was one judge assigned to our category. While we were walking around the tent at LA City College, I saw groups from all over LA County who had done projects on virtual reality, senior portraits and financial services. My group used GIS to create maps for different purposes, such as tracking derelict fishing gear. We had used an ROV to collect GPS location points, and we imported them into the maps we created.
Upon arrival, our group of six looked for our table and received our respective lanyards. After finding our spot, we nervously rehearsed our presentation a couple of times and waited. When it was our turn, the judge assigned to the natural resources sector came up to our table with a scoring sheet. The judge gave us feedback after we went through our presentation one last time.
"The actual presentation experience was simpler and less painful than I expected. The process was short and sweet," said Dominique Evans-Bye, Environmental GIS teacher at Clark.
"I liked the one-on-one interaction with the judges rather than having to talk in front of a crowd." Guntireddy said. "I liked it when the judge was asking us questions regarding our project and my teammates were supportive. They did not push me to do perfectly, but to do the best I can."
Guntireddy, as a part of our group of three, presented her project on storm drains. Her map showed how storm drains are connected to the watershed and trace to the ocean. "I think SkillsUSA should have more competitions and more frequently so more people would get involved," Guntireddy said. "Competing at SkillsUSA made me realize what I could have done differently if I were to redo my project. For example, I would add the different places where the watershed was connected as to make the map more interactive."
Some of the sections that Clark students competed in were milling, lathe, CADD, robotics, welding, camming and advertising. Nine people from Clark competed in CNC milling. Those who participated in the milling competition had a 50-question written test and a blueprint to code with G codes.
"I think the competition helped build my confidence for applying for a milling job in the future," said junior Serly Teymoorian. "I encourage many students to participate in SkillsUSA since it will help them in testing their skills and seeing what career they want to pick."
"The state of California was supporting SkillsUSA, and I have heard good things about it, so I decided to have my students enter it," Evans-Bye said. "I think anytime you reflect on your work, why you are doing it and how you do it, you learn from it."
According to Evans-bye, such competitions help with learning to apply GIS skills by doing interviews and writing resumes.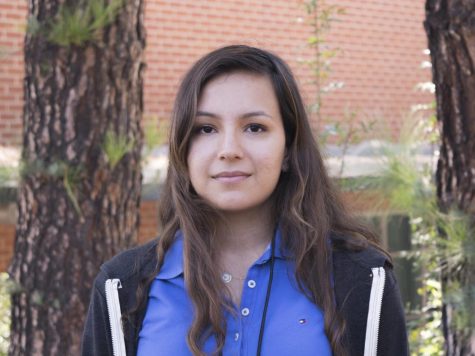 Paniz Jazirian, Staff Writer
Interest/Hobbies: My hobbies include drawing and playing the guitar.
Favorite year in music : 2012!
Goals in life: To become a genetic counselor...