Marching moves society forward
Women's March L.A. spreads awareness of social causes and empowers women everywhere
Hang on for a minute...we're trying to find some more stories you might like.
Everywhere I turned there were people, packed close together on Hill Street like sardines. People talking on phones, saying, "I'm near the International Jewelry Center, can you see me? Can you see me? I'll find you." People chanting, people in costume, and people holding cell phones over the crowd searching for reception or a good photo.
The street was a sea of pink and black, pink for femininity, black for the #metoo movement. Individual voices couldn't be picked out in the commotion, but all rose together to form a collective roar.
I had never been one to shout out my thoughts. Just thinking about what I'm going to wear to school in the morning makes me nervous. But when I got wind that the Second Annual Women's March L.A. was going to occur in Downtown Los Angeles on Jan. 20, I knew I had to be there.
I've always believed in gender equality, and in light of all the recent sexual assault scandals and courageous women speaking up about their experiences, I knew it was the least I could do to stand in solidarity with such women. If they could tell their traumatic stories to people prepared to doubt them and defy a culture in which assault by men in power has been accepted, I had no excuse to sit at home and pretend to do homework while the Women's March occurred a half-hour drive away.
For these reasons, I went to the Women's March instead of lying in bed until 11 a.m. I rolled out of bed, murdered a cardboard box in attempt to make a sign, and hustled all the way to Pershing Square. As this was my first march, I felt a bit nervous in the car and walking to the meeting place. Some other first-timers also felt the same way. "Before going I actually experienced a lot of anxiety. Despite this, my strong feelings drove me to go," said march attendee Isabella Ersoz. "I wanted to be a part of the movement, I wanted to see democracy in action."
Upon arrival, my mom and I somehow found a few friends in the midst of the estimated 600,000 people. As far as the eye could see, there were people crowded onto the streets, all marching for a multitude of different reasons under the broad umbrella of equal rights, but uniting to make a collective impact.
The numerous causes people marched for include protection of reproductive rights, LGBTQIA rights, workers' rights, civil rights, disability rights, immigrant rights, Indigenous peoples' rights and environmental justice. "I marched for rights of the body, equal pay, and not necessarily legal rights, but something more subtle than that," said attendee Riley Schlachter. "How women are seen in society, how powerful men view and talk about women. I feel like these subtleties can speak louder than the legalities."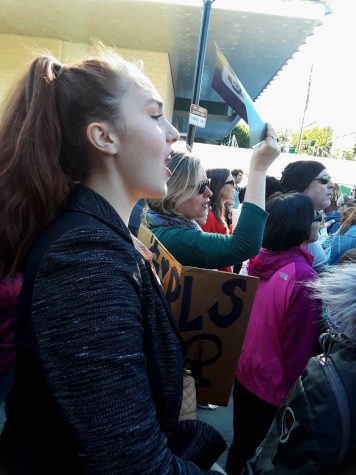 Ordinarily, every person in a crowd has different and often contradicting views about matters important to them. At the march, however, individuals were no longer alone, but supported by people with similar values and perspectives. Women, husbands, boyfriends, sons, teenagers, babies and pets were at the march. There were people marching with organizations and on their own, people marching for others and for themselves. Signs, chants and clothing were all used to convey people's opinions and experiences.
Some chants centered on President Donald Trump, such as "Hey hey, ho ho, Donald Trump has got to go," and "No Trump, no KKK, no fascist USA," the latter of which was made popular by Green Day while performing in the 45th Annual American Music Awards. Others focused on reproductive rights, with women chanting, "My body, my choice," and men responding with, "Her body, her choice." One organization, Gabriela USA, congregated in one area and led many home-baked chants, made more powerful by a megaphone and drums.
This year's Women's March focused on encouraging individuals to take their causes to the polls. Several handheld signs read, "The Blue Wave is Coming," or "Grab 'Em by the Midterms" foreshadowing what marchers hoped would be sweeping Democratic wins in the upcoming November midterm elections. "Our solidarity is our strength," said celebrity Sarah Hyland. "So march, speak out, share your story, give what you can to the Time's Up Legal Fund, and for the love of God, vote!"
After marching from Pershing Square under the shade of Downtown's skyscrapers, the march route ended at Los Angeles City Hall, where celebrities such as Hyland spoke on a stage.
There were many distinguished speakers and performers, including Scarlett Johansson, Viola Davis, Lupita Nyong'o, mayor Eric Garcetti and Senator Kamala Harris.
The many speakers spoke with a compelling message and call to action. "Every single day, your job as an American citizen is not just to fight for your rights," said actress Viola Davis. "It's to fight for the rights of every individual that is taking a breath, whose heart is pumping and is breathing on this Earth." Davis, and many others, encouraged people to fight, especially when it's hard, when it isn't as simple as cheering and clapping in a crowd of like-minded individuals, but means facing adversity and defying societal norms.
Standing in the heat with no shade for hours was very tiring, but that was easy to forget while listening to such words. Most in the audience seemed to feel the same, continuing to loudly cheer and keep the energy up even as it neared 4 p.m. and everyone had been on their feet for about eight hours. "The distance didn't make me tired," said Savanh Taymani. "It was the hours of standing that made my feet dead by the end of the march, but my voice was still loud, like it was wishing to be heard."
Although the Women's March L.A. of 2017 and the Second Annual Women's March L.A. share the same name and are organized by the same organization, there were some notable differences between this year and last year's march. "There were fewer people at the march compared to 2017," said two-time participant Eithne Quinn. "And I think last year there was a strong reaction to the inauguration of number 45 [President Trump] and were more optimistic to see some change, whereas this year people are probably worn down."
There may have been fewer attendees at the Second Annual Women's March of Los Angeles than the 750,000 who attended in 2017, but there was still a large turnout. The people were passionate, the chants and signs were motivating, and the speakers were brilliant people with purpose.
Although the march was initially put into motion in reaction to President Trump's election, it was never about him. Individuals marched to display the power of the people and show that they will not sit by and accept that which they feel is unjust. It was not only about the government and unfair legislation, but about societal constructs and the female condition.
While all marchers did was walk a few blocks and watch others speak, what they did was still important. "We live in a democracy, and it's important to let the government know that you are willing to fight in courts and march for rights," said past attendee Naomi Beach, a Clark Magnet sophomore. "Marching does garner media attention, and when the media discusses what you're discussing, that spreads your message to people you can't reach on your own. Everything helps, and calling senators or marching on the streets are part of moving things forward."