Learning by doing
The California Science Center provides Southern Californian youth a chance educate others
Amidst giant music festivals and overcrowded football fields, the California Science Center is an underlooked gem deep rooted in Los Angeles. It also provides students from ages 16 an opportunity to serve its guests, as well as be immersed in an interactive learning experience — an opportunity I couldn't pass up when I initially started volunteering there in August.
"Interactive education holds the kids' attention. Instead of just sitting, listening to someone talk, they get a hands-on experience," said science teacher Dominique Evans-Bye, regarding the benefits of interactive learning. "They learn by doing."
Originally opened in 1951 as the California Museum of Science and Industry, the renamed California Science Center has been open since 1998 and only recently had a massive overhaul in 2010, including a major expansion that introduced its world-renowned Ecosystems exhibits. Another, more recent addition to the Science Center is the Space Shuttle Endeavour hanger. The shuttle was launched in missions from 1992 until 2011, and was stationed at the Science Center in 2012.0.
Since signing up to volunteer at the Center as an Ecosystems Host, I've been able to work in most of its exhibits, including the Desert Zone, River Zone, Island Zone and Kelp Forest. There were also some outliers that I worked at, like the World of Life and the Endeavour Space Shuttle.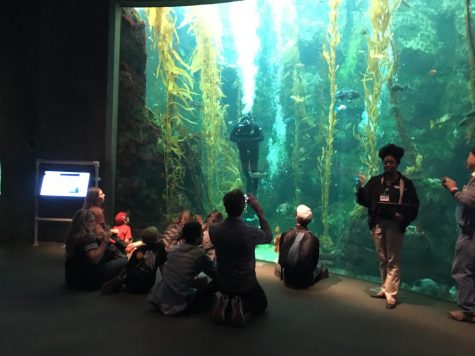 Before volunteering, I attended a training session led by the curator of ecology, Dr. Chuck Kopczak. Going through each ecosystem exhibit one by one, Kopczak explained the purpose and design of specific aspects of each exhibit.
For example, Kopczak explained the structure of the Center's kelp forest tunnel. "Most aquariums just have a giant window," Kopczak said. "Here at the California Science Center, we wanted to create an immersive environment for our guests. When you walk into the tunnel, what you see there is what you would see if you were actually in the tank with the fish."
After the guided tour, Kopczak took us to an upper-level conference room to discuss frequently asked questions and how to prepare for common situations. One of the most commonly asked questions is "Is that fish dead?" Our trainers told us to explain to the guest that the fish is usually resting, and they are visited twice a day by divers. If they were dead, they'd be taken care of immediately.
The ecosystems training session was also used as a group bonding session. We had to enact frequently asked questions and put ourselves in complicated situations that might arise during our service hours.
When I first started, I thought a sixth of my Saturdays — I have to work for at least four hours a week — would be spent greeting guests and telling them where the bathroom is. Instead, I get to learn something new — however cliche that may be — every week, and engage with guests regarding specific exhibits, such as the ever-so interesting male Sheephead in the world-renowned kelp forest: a fish born a female which transforms into a male without one present.
The kelp forest is my favorite exhibit. Its live animals and giant aquarium windows make it a tranquil environment for guests to cool down and enjoy nature.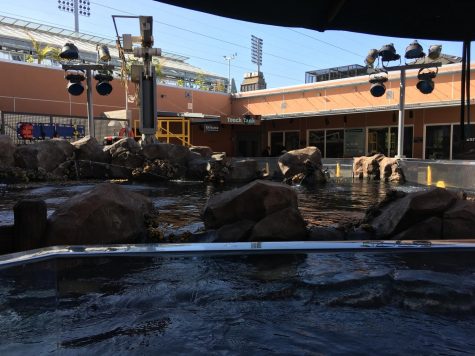 The upstairs rocky shore exhibit showcases the intricate systems behind the giant kelp tank. Not only does it exhibit the Center's pump system that controls the tank's flow and tide simulation, visitors can also see divers enter and exit the tank to take care of the fish.
The rocky shore exhibit also has a touch tank which educators use to demonstrate the tendencies of various tidepool-dwelling creatures, such as sea stars, abalone, sea urchins, and giant green anemone. The touch tank fully summarizes the Center's ability to teach through interactive experiences. By actually seeing the creatures up close, guests can witness the animals' characteristics.
The kelp forest also has educators who present guests with questions to ask regarding the kelp forest's animals with the center's trained divers. Guests usually ask questions such as "How many sharks are in the tank?" or "What are those bright, orange fish?"
Some of the more rare questions are those regarding the diver's suit. The divers have specialized air cylinders in their suits that can adjust how high or low the diver floats.
"Volunteering in the kelp forest is always my favorite," said volunteer Mathias Macatangay, a student at Downtown Magnet High School. "It's great seeing young kids so eager to learn about various fish and the environment around the fish. It reminds me a lot of myself when I used to visit the Science Center as a kid."
Another one of my favorite exhibits is the River Zone. Guests come in and the first thing their eyes see is the long, slightly-sloped platform filled with sand. Though it reeks of chlorine, guests are always intrigued to play in the sand.
The purpose of this is to structure a river, and discover how waters flows through sand. Usually children are the guests that play here, but one specific couple bonded together developing a nicely contoured river, with multiple paths and entryways.
Other attractions are the short documentaries scattered around the exhibit. Some display the lack of control in rivers which lead to a massive decline in a salmon population, and others are timelapses that display flow; one of lava flow and another of a melting glacier.
Another great exhibit is the Center's Desert Zone. It is grouped together with its Arctic Zone. Though these exhibits are four degrees warmer and four degrees cooler than the rest of the Center, respectively, they both have their perks and unique contributions to the California Science Center.
The Desert Zone has a unique attraction that isn't present in any other exhibit: its Splash Zone, an "every 15-minute" simulation of a flash flood. Lights turn dark, riveting thunder rings through and boom! The water comes racing in from the Center's water control system and rushes through, drenching any victims in the Splash Zone. Don't worry about the desert tortoises, though; they're trained to stay within their rock-lined boundary, and never fall into the pit of despair that is the drain.
Volunteers have many reasons for working at the California Science Center. "I started volunteering because I've been going here since I was a kid, and I needed service hours," said volunteer Carlene Sanchez, a student at Immaculate Heart High School in Hollywood. "I thought 'might as well do it somewhere that I'm happy and that I'll enjoy doing the work at.' I just wanted to, especially in guest services, communicate with more people, work on my public speaking, and learn more about science because it is my weakest subject. Volunteering at the Science Center will help me develop those skills."