A day in the life of a business manager
Local nail salons find it challenging to keep up with the competitiveness
According to an article from The Week, nearly three-quarters of high school students in a 2014 survey stated that they wanted to start their own business in the future. However, it's not a secret that the business world is extremely competitive. The U.S. Census Bureau reported that while 400,000 new businesses are started every year in the USA, 470,000 businesses close.
Knowing these statistics, I became curious as to how exactly it feels to be in this business world. I decided that running a business for a day would be an enriching experience. After talking to Melania Mirzoian, my mother, and planning out a date, she agreed that I would, for a day, run her Glendale nail salon.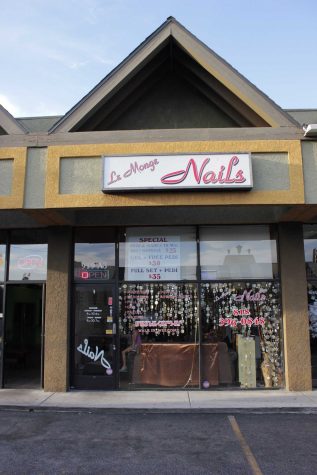 If you live in Glendale or have been in Glendale, there is no doubt that you've seen multiple nail salons. A Google search for nail salons in Glendale provides 66 results. The nail salon business is clearly a competitive one. "You have to always be on top of the game and be one step ahead of everyone else," Mirzoian said. "If someone does something new you have to do it better." I also got some insight from D'Luxe Beauty Salon owner Alenoosh Shajaian, who said that it is sometimes very difficult to compete with all the other salons. "When something is trending you have to be the first to provide it to customers," she said.
While I had been at Le Monge Nail Salon multiple times before to get pampered or even to just visit my mom at work, walking in knowing I would be the manager for the day felt different. I felt a bit nervous but mostly confident.
I had never paid attention to what went on behind the scenes. I assumed that I'd be dealing with tasks that are specific to salons: making appointments, dealing with walk-ins, taking payments, and in general guiding customers — and I did. But, there was so much more to deal with than just the basics. You can be taught how to use a credit card machine, or how to book appointments, but there are some things that you cannot learn or prepare for, some things you just need to be patient with.
Although I had a pretty pleasant experience, there were definitely some parts I wish I could have skipped — by some parts I mean stubborn customers. Yes, the customer is always right, and no matter how difficult it may be, you have to just go with the flow with a smile on your face. Still, this was my biggest challenge. One woman had even walked in and ignored the friendly welcome that our staff provided. Okay, that wasn't so bad, but she then continued to be difficult to work with and had a bad attitude towards not only me, but the rest of the staff. When my mom asked what color she wanted to do her nails, she snapped back, saying, "I don't know, what colors do you even have?"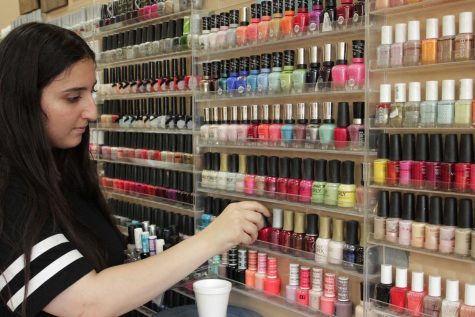 I tried my best to handle all of this professionally. Yet I was so tempted to give the same uncalled for disrespect she had given everyone there. I had to use every ounce of patience in me to just let it slide. We all know that nail salons are relaxing environments to give yourself a break, so tension like this is aggravating for employee and customer alike.
Also annoying would be when people brought their kids and didn't control them. "It's the worst when little kids are running around while the parents are being rude," Mirzoian said. "It disturbs customers and workers from doing their job."
These irritating parts of the job were worth it because I got to meet so many people. Not including the few rude ones, most of the people were kind and friendly. It's crazy how much some people will reveal about themselves at a nail salon, They walk in strangers and walk out friends.
"Depending on what they get done, some appointments can take 10 minutes, some take an hour, but no matter the time, these people trust you," said Araz Sirijanian, a facialist at the salon. "You end up knowing where they went or are going to school, how many children they have, what their profession is, what they like to do in their free time, or even their opinion on Trump — that one always seems to come up," Mirzoian said. Especially at my mom's salon, we try to make you feel at home. "Everytime I walk in, it's like I'm walking into a second home," said Tereza Sanchez, a loyal customer who has been revisiting since the opening back in 2013.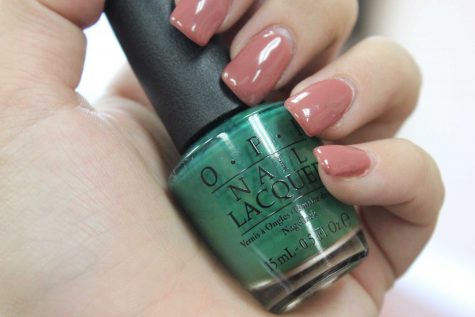 Taking phone calls is also key to the front desk job. Most of the phone calls consisted of people calling and asking about prices, appointment availability, if we accepted walk-ins and the salon hours. I sat at the front desk, so I also dealt with where people with appointments went and I had to ask what the people who were "walk-ins" what they wanted to have done.
Taking payments wasn't rocket science. I just counted up their total, put the money in the register or made a card transaction. Even if it wasn't hard, it was still tedious work. However, the overall work that is put into running a salon is not easy in the slightest bit — most customers don't see it during their visit.
"When I go to get my nails done, I honestly don't think about the work behind it," said Narine Najaryan, a junior at Glendale High School. "I just hope they end up doing a good job. Personally, I could never do what they do."