Asian Invasion in Los Angeles
Two perspectives of KCON, a Korean pop convention that culminates in a concert.
On Aug. 24, LA Exposition Park was quiet and calm, the flaps covering the booths gently crackling in the wind. However, 10 a.m. would mark the beginning of a two-day torrent of frenzied fans.
KCON, a Korean pop convention that culminates in a concert, is a fairly new annual event hosted by the Korean company, CJ Group. MNET America, a Korean music channel owned by CJ Group, airs this annual event on television for people who cannot attend. First held as a one-day event in 2012 at the relatively small Verizon Wireless Amphitheater, KCON 2013 expanded and catered to the desires of the 20,000 fans in attendance.
This year, the convention took place in Exposition Park, and the concert was in the LA Memorial Sports Arena.
Our two perspectives of this event follow…
Vanessa
Entering the KCON venue was like falling into Alice's Wonderland. I was at a loss for words as I laid my eyes upon the countless booths each dedicated to a different aspect of Korean pop culture. Around me, people of all ethnicities expressed their dedication to K-pop by dressing up as their favorite artists and proudly flaunting their artist inspired outfits. At that point, I knew this year's convention was going to be one-of-a-kind.
There was something for everyone to enjoy at KCON. Workshops included Korean cooking classes, fashion and makeup tutorials, and even tips on developing songwriting skills. I was interested in the "Dance All Day" booth, where well-known choreographers enthusiastically demonstrated their catchy dance routines. Most people who attended the dance workshop, including myself, lost ourselves to the music blaring from the enormous speakers.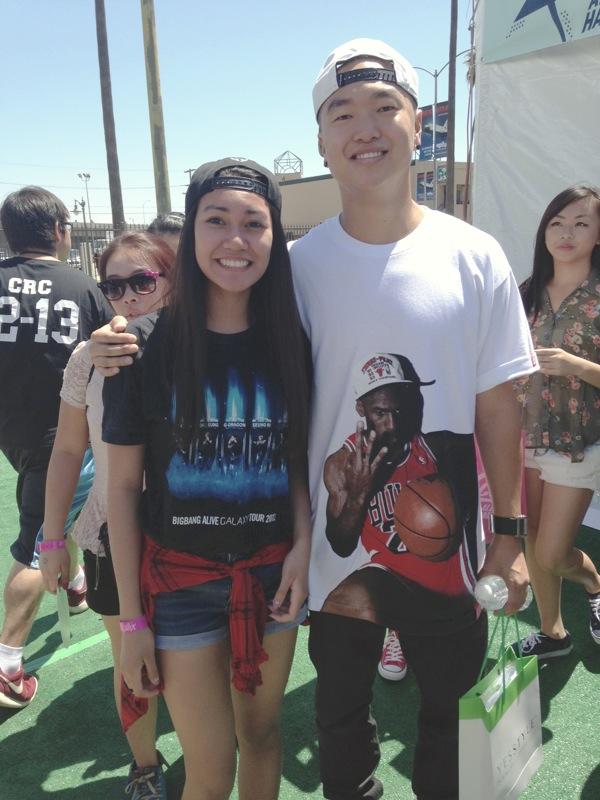 There were also panels where famous Youtubers and special guests talked about their lives. American Idol's Heejun Han, Koreatown-based rapper Dumbfoundead, choreographers Lydia Paek and Mike Song, and singer Jeff Bernat were among the impressive panelists list. Although I was starstruck, I mustered enough courage to ask most of them to take a picture with me or give me an autograph. As they happily agreed, I couldn't possibly fathom how this weekend could get any better.
I was proven wrong, however, when I witnessed the the jaw-dropping performances at the concert. KCON did a commendable job at making the concert appeal to those who don't even understand Korean. The ballad group, 2AM melted all the ladies' hearts with their rendition of Bruno Mars' "Just The Way You Are." Henry Lau, from the idol group Super Junior, performed the English version of his hit song, "Trap."
The most memorable part of the concert for me was the collaboration between the legendary Missy Elliott and Korean rapper, G-Dragon. The arena went wild as the two ended the night with a English/Korean collaboration stage. To me, this performance embodies the whole purpose of KCON: to unite people by their love of music and performance, regardless of what language it is in.
Ericka
The anxiety of the fans in the VIP 1 check-in line palpably hung in the air. With sweaty palms and my heart thumping in my throat, I reached out to grab my pink goodie bag filled with pins, a shirt, a light stick and three random scratchers that could determine what sort of artist engagements I would receive.
For convention goers, scratchers were the main concern and the cause of all the tension. There were already unions for switching scratchers, and as fans carefully revealed who they got, wails of despair mingled with cries of triumph. Surprisingly, I was one of the lucky ones who got a viewing session for internationally acclaimed 12-member boy band EXO, a viewing session for "wild and young" Korean rapper G-Dragon, and a chance to high-five legendary Korean hip-hop artists Dynamic Duo.
Heading over the side stage, I calmed my nerves before the talent show as I watched my friends dance to hit K-pop songs in the "KCON's Got Talent" competition and talked to the volunteers. Mike Vargas, 19, amiably said, "I'm excited!" When the time came for me to sing, I chatted onstage with the audience of hundreds of people before leading into my performance of "Special," by 16-year-old K-pop soloist Lee Hi, which placed me in the top three singers.
After the nerve-wracking experience, I joined my friends at the food trucks. Food trucks from all over Los Angeles had congregated for the famished convention goers. After hours of roaming around under the sun, nothing sounded better than a burger with a generous helping of fries. To quench our thirst, KCON provided an unlimited supply of lemonade for VIP 1 fans in the lounge.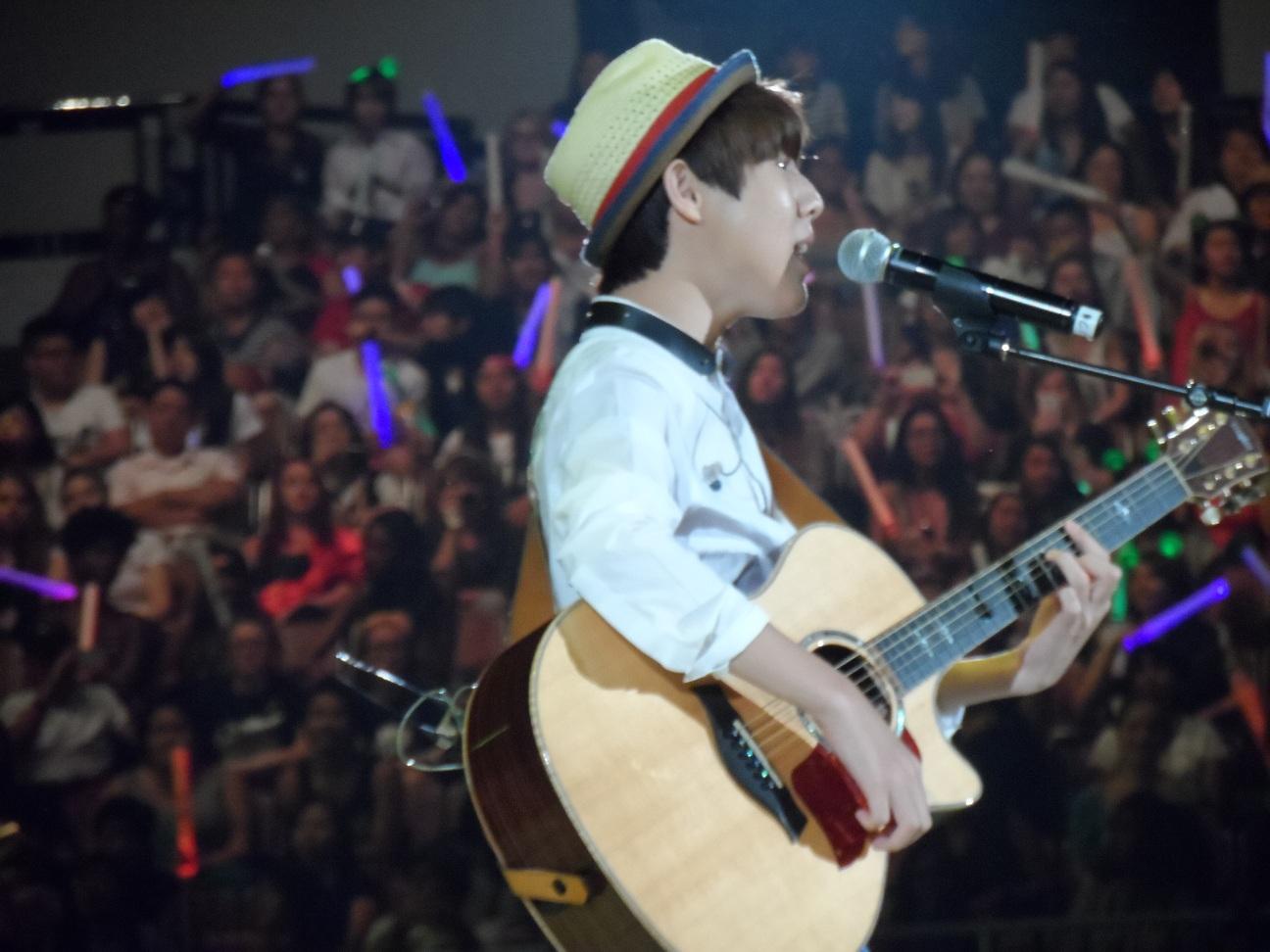 On the second day, I went over to the various booths. Fervent fan club booths were handing out banners for their favorite groups. Merchandise booths churned out posters and albums to meet the demands of the fans who cannot find all this merchandise elsewhere.
With all of our concert gear in hand, the fans who had splurged $325 on the VIP 1 ticket stood in line for two hours before the concert. When the concert venue opened up, impatient fans ran to the pit area to get the best view possible. Hoping to be able to interact with the artists, I stood at the corner of the stage, where they would have to pass by.
For two and a half hours, I was in awe. EXO made the most out of the stage as they spread out to interact with fans. Quirky girl group f(x) sent both fanboys and fangirls screaming when they waved at our side. As we all shrieked, cried, and waved our light sticks, I felt at home among my fellow K-pop followers.
Leave a Comment
About the Contributors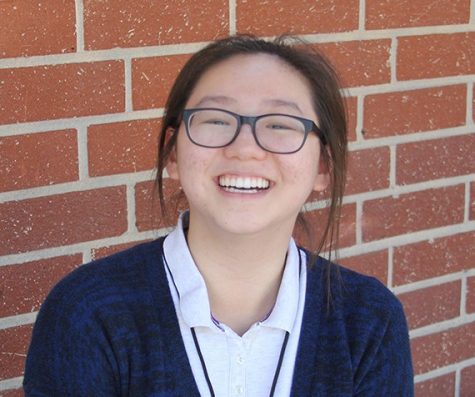 Ericka Shin, Magazine Editor
INTERESTS/HOBBIES: Concert-going, book-reading, pun-saying, cover-making, prose-writing



EXTRACURRICULAR ACTIVITIES:  GMG Regional Board (VP of...