You haven't worn clothes until you've worn Ratioclothing
No matter the quality of the material or its rating — super 220s wool or 200 two-ply poplin cotton — the fit of the shirt is the most important aspect. If a shirt is too large, it begins to billow and crease around the waist, making the person look overweight. If it is too small, it constricts movement. The problem with off-the-rack clothing, such as Calvin Klein or Hugo Boss, is that their sizing is based on averages. If one has a neck size larger than 14, the person is presumed to be wearing extra-large shirts. Hence, it becomes impossible to find clothing of the right fit, forcing one to befriend a tailor.
An alternative to off-the-rack shopping — and costly visits to a seamstress — is made-to-measure clothing. Shirts that are handsewn specifically for a person's body shape provide the perfect fit, in addition to allowing for customization and personalization through unique collar types or monograms. Ratioclothing, an American made-to-measure company, provided me with the best possible result I could imagine.
The order process is simple. I picked the material, pink broadcloth in this case, and decided on additional features, such as a white club collar, white french cuffs and a pink monogram atop the left cuff. The pricing is reasonable. A shirt from Hugo Boss costs $125, and cutting the shirt down to one's size can cost upwards of $40 in tailoring. Ratioclothing's prices start from $98 up to $150, which is cheaper than having an off-the-rack shirt tailored.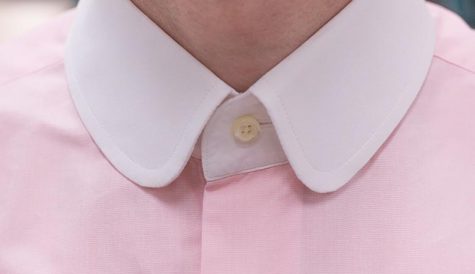 The policy on remaking or altering shirts "as many times as it takes" allowed me to receive a second order, as my first set of measurements was slightly off. Dealing with customer service was pleasant and the responses were always prompt. The representative asked for pictures and then adjusted the blueprint. After an additional three weeks, the shirt arrived.
While it did have some stray stitching, the broadcloth cotton and sizing made up for those minor faults. The material is crisp while being wrinkle resistant, unlike the Charles Tyrwhitt Egyptian cotton which wrinkles at the sight of sunlight, and the hourglass shape of the shirt, which in the off-the-rack world is as rare as a striped unicorn, fits tightly throughout the whole body without being uncomfortable or limiting my range of motion. The combination of the pink cloth being contrasted by the white french cuffs and white club collar resembles the 1920s style that is often seen in Martin Scorsese films like Boardwalk Empire.
Ratioclothing is one of the most cost effective and high quality options for men whose measurements do not coincide with those of ordinary manufacturers', or for men who seek a personal touch through the many unique features.