I play games at GameHäus Café
Any Glendale native driving through San Fernando Road or Brand Boulevard has seen the bright red word "Seeley's" above the historic Seeley Building, but not many people know that the historic building houses a hidden gem: GameHäus Café. The Seeley Building, originally built in 1925 for George Seeley's furniture warehouse, underwent renovations to be converted for office/living space and art displays and reopened in 2012.
The quaint and cozy GameHäus Café is a sanctuary where customers can enjoy each other's company through board games, drinks and pastries. The café's expansive board game library includes over 900 titles, including the classics such as Monopoly, Battleship, Scrabble, as well as party games, card games and many more.
After AP testing, my friends and I decided to celebrate our accomplishments by spending the afternoon at GameHäus Café. We had some difficulty finding the actual café because it had a tiny sign in comparison to the gigantic "Seeley" above the building. We drove past the café twice: the first time was because we couldn't find the café, and the second time was because we could not find a parking space.
However, after calling the helpful café workers over the phone, we realized that we could park in the lot next to the car rental company, Enterprise, so long as we didn't block any other cars. I thought that locating the café and a desirable parking spot took longer than it should have, and had high hopes that the café's experience would be worth the trouble.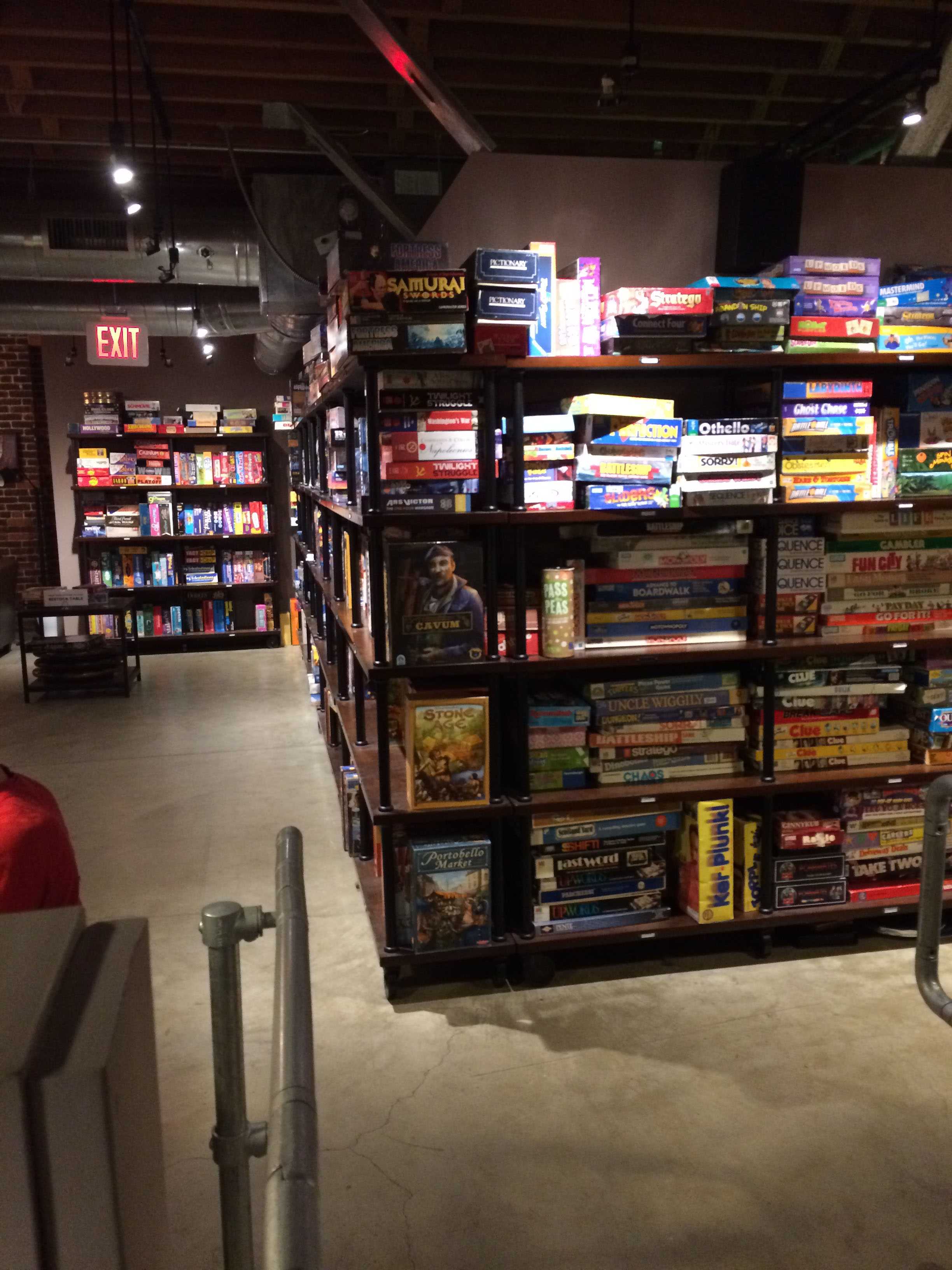 Luckily, as soon as I walked into GameHäus and saw the expansive board game library and old-fashioned furniture, I knew the parking trouble was definitely worth it. We paid an entrance fee of $5, and were welcome to stay until closing time. Although the café mostly has tables and chairs for the customers, it also has several comfortable couches, which my friends and I chose.
I was disappointed when I found out there was no wifi code, but I later realized that the purpose of not making wifi available to customers was part of the café's intent to encourage friends to spend time with each other in person.
Once we were seated, I ordered the Old Maid sandwich. The order came with salad, vinaigrette, and the peanut butter and banana sandwich. The bread wasn't toasted, but it was soft, which contrasted with the crunchy peanut butter. As I was eating the sandwich, I was pleasantly surprised to bite into the delicious bananas. The salad, on the other hand, was refreshing and the leaves were crisp.
We stayed at the café for two hours playing Jenga, Operation, Uno and Rotten Apples. I was surprised that although our group was loud while playing the board games, no one told us to lower our voices because everybody else matched our volume. The workers were extremely friendly and cheerfully sent us off when we left the café. Overall, I had a satisfying experience and would recommend this hangout spot to groups of at least four people.
GameHäus Café
1800 S Brand Blvd #107, Glendale, CA 91204
Monday: Closed
Tuesday-Thursday: 11:00 a.m. – 11:00 p.m.
Friday-Saturday: 11:00 a.m. – midnight
Sunday: 11:00 a.m. – 9:00 p.m.
(818) 937-9061