Trying lunch at Tickle Tree Cafe
A bit over priced, but tasty nonetheless.
Nestled in the Foothills of La Crescenta lies the trendy Tickle Tree Cafe. Though I have passed by it several times, I finally got a chance to visit this promising cafe this past Saturday.
Upon entering the restaurant, I was greeted to a large menu offering a wide-array of sandwiches, salads, cappuccinos and teas. In addition to the dining variety, I noted all kinds of seating options, including booths and tables and a stellar outdoor dining patio. Once placing your order, you can take your number placard and choose to sit wherever you would like. Additionally, the cafe provides a hip, intimate atmosphere with its rustic meets modern decor.
For lunch, I ordered a Classic Burger with the garlic-tossed fries. However, I opted to drink water instead of ordering a drink because I found the food to be a bit on the pricey side (with just the burger and fries amounting to about $11). Moreover, after placing my lunch order, I realized that though there were plenty of places to sit, many of them were already filled. It seemed like during the afternoon (especially near the "lunch rush" hours"), the cafe was often crowded and filled with people. Luckily, my friend and I were able to secure a seat at the only vacant table we saw.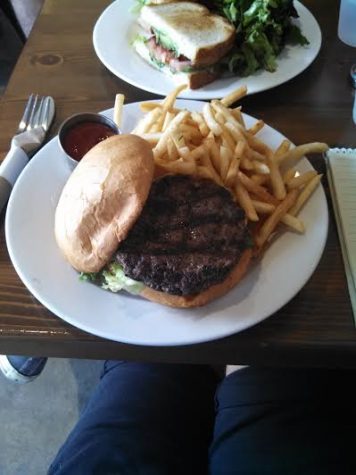 Despite my disappointment over the crowd and price, I was very impressed with how quickly our food came out. I'm willing to bet that my food arrived within five minutes of placing the order. The burger was cooked at the perfect temperature for me (medium) and had a rich, savory flavor that was enhanced by the tangy aioli sauce. Though I don't normally care for garlic-y foods, I was also surprised at how much I enjoyed the balanced and crispy taste of the garlic-tossed fries.
Moreover, I was a bit disheartened that after receiving my food that none of the waiters or staff came back to check on us or see how the food was doing, as I have become accustomed to at restaurants.
The food and the convenient location near school have definitely outweighed some of the critiques I have about the cafe. The Tickle Tree Cafe's trendy ambiance and diverse menu options make it an optimal place for study groups or impromptu lunch dates. I look forward to trying the specialties like the mint lemonade or their breakfast omelettes on my next visit.
Address: 2853 Foothill Blvd, La Crescenta-Montrose, CA 91214
Phone:(818) 249-4169
Open today · 8:00 am – 10:00 pm
Menu:tickletreecafe.com