'To All The Boys I've Loved Before: P.S I Still Love You' writes itself a new romance: P.S it wasn't needed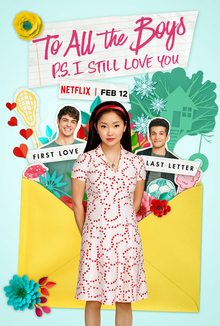 Ever since Netflix announced the sequel for the teen romance movie, To All The Boys I've Loved Before: P.S I Still Love You, fans have been waiting to see where their favorite characters' love story will go next.
In the original film, the narrator tells the story of a young girl and her personal letters. Without her knowing, these love letters get mailed to their recipients and the drama follows the storyline through the thoughts the protagonist writes.
The sequel continues to follow the journey of Lara Jean Covey (Lana Condor) and Peter Kavinsky (Noah Centineo) in their attempt to pursue a real relationship with each other after overcoming the challenges in their way. The plot of the second film becomes complicated when one of the original letter recipients, John Ambrose McClaren (Jordan Fisher), attempts to become a part of the protagonist's life by responding to the letter. Lara has to determine between her new relationship with the popular kid that she always had a crush on and a more reserved boy who she seems to have much more in common with.
To All The Boys I've Loved Before: P.S. I Still Love You tells the story of a coming-of-age girl and her struggles trying to navigate the complicated realities of high school. Although the story is entertaining, it does need more balance between the characters and character development. The movie spends too much time trying to make John Ambrose part of the story when the reality of what Lara Jean is going through during her break up is completely disregarded. The film doesn't build the storyline details enough about the main characters to get the viewer invested.
Netflix's choice of actors always fit the characters perfectly. With the return of some of the fan-favorite actors like Noah Centineo and Lana Condor and the addition of a few new faces such as Jordan Fisher, each actor showcases the emotions and characteristics of the personas flawlessly.
The soundtrack of this film is ideal with the theme of the movie, filled with super upbeat songs about love and relationships. The soundtrack complements the touching and fun-filled theme of the movie. The songs hit all the right notes in a classic teen romance film.
To All The Boys I've Loved Before; P.S. I Still Love You is the much needed sequel to the first movie. For people who love to stay at home to watch teenage drama movies, this movie is bound to have them wishing for your own love story.