California held responsible for new E. coli breakout in lettuce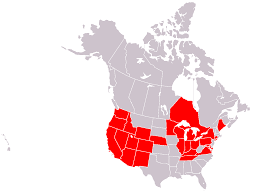 Yet another E. coli bacteria breakout in romaine lettuce has hospitalized over 43 people in 12 different states in the U.S., just before Thanksgiving. Currently, no deaths have been reported, but it has even spread to parts of Canada and Quebec, catching over 18 people there.
However, when it boils down to the source of it all, it was found that Californian agriculture is mainly to blame, as recent research proves that over ten of the 32 total cases can be traced back to California. Food safety investigators and other sources have confirmed that the breakout stemmed from Californian growing fields. Areas towards the East Coast also have some cases, but there are fewer cases compared to West Coast cases.
Even after previous breakouts of bacteria in food, America — and California in particular — should be able to plant their crops in a way that doesn't contaminate the lettuce fields.
Certainly, this is achievable with some extra tests on food naturally grown. E. Coli is most commonly found as a bacteria in the intestines of animals and even humans, so when manure is made to keep soil fertile, some of that bacteria gets to the food itself. Water purity has also a significant issue in California in the past, and the state as well as others should note of bacteria and fecal contents in water used to farm. Consumers as well should contribute to guarantee less harm by thoroughly washing produce, as well as cooking it, because it fully washes away bacteria.
Other recent updates from the Food and Drug Administration (FDA) and the Controls for Disease Control (CDC) say that, on the brighter side, some romaine lettuce is now proven to be safe to eat. The return to normally grown lettuce has been respectably attempted, as there is the effort being made to put temporary protection labels on lettuce in grocery stores. In this way, consumers know exactly what they're buying and from where it was grown. Though this is a good attempt in preventing even more spread of E. coli in lettuce, hopefully with changes in the processes of agriculture, California will be more responsible when it comes to monitoring food in order to ensure that the safety of the public, and the country for that matter, is safe.