Clark students participate in Montrose 43rd Christmas Parade
Hang on for a minute...we're trying to find some more stories you might like.
Thousands of people filled the streets of Montrose on Dec. 7 to watch the 43rd annual Christmas Parade. As the temperature became colder, the 696 Robotics Team prepared for their march down the street. While waiting to join the parade, the team put on their pink sweatshirts, turned on their robot monitors, and started up the 696 truck as they began going down the streets of Montrose, chanting "Circuit Breakers!"
"This is my fourth year being part of the Montrose Parade. It's my favorite event of the year," said business manager of 696 team, senior Jasmine Carlson. After weeks of preparation, students in the 696 Robotics team had finalized the decoration of their robot with light bulbs and Christmas ornaments. "The little kids love looking at the colorful blinking lights," Carlson said. "It's the most amazing feeling when you see the smile on people's faces as they admire all your hard work."
The Montrose Christmas Parade Association works all year long to plan this community event.
The 696 team participates in the Montrose Parade by partnering with Google, JPL and Arconic who provide the funds to produce the robots that are displayed in the Christmas parade. "We could not be part of this event without our hard working team of student and supportive sponsor mentores," said senior Alaina Joby.
Many people from different organizations and schools joined in on the parade. The members of Relay for Life walked through the streets of Montrose enduring the cold, to spread awareness for cancer by holding up banners communicating the mantra and goals of the organization. "This is my first time being in the parade," said sophomore Janet Jong, a Relay for Life member. "It was an amazing experience walking down the streets and waving to kids while spreading the news of an important cause."
The parade also showcased different schools, police officers riding on horses and motorcycles, and old vehicles. The night reached the end as Santa flew in a helicopter, lighting up the sky. Children cheered loudly, as they waved to Santa. Reflecting her experience in the Christmas Parade, sophomore Christine Nguyen said, "It's my favorite event to watch the Montrose Christmas Parade with my family."
About the Contributor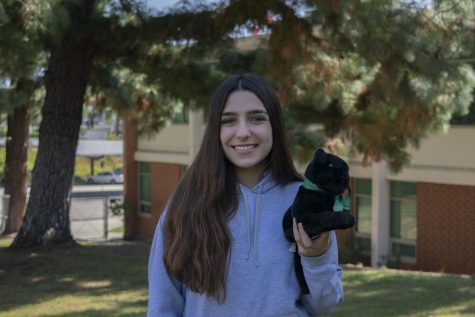 Serineh Ohanian, Staff Writer
Hobbies/Interests: Cross Country

Spirit animal: Jaguar

Places you want to travel to: Japan

Favorite food: Risotto

All-time favorite movie: Dunkirk