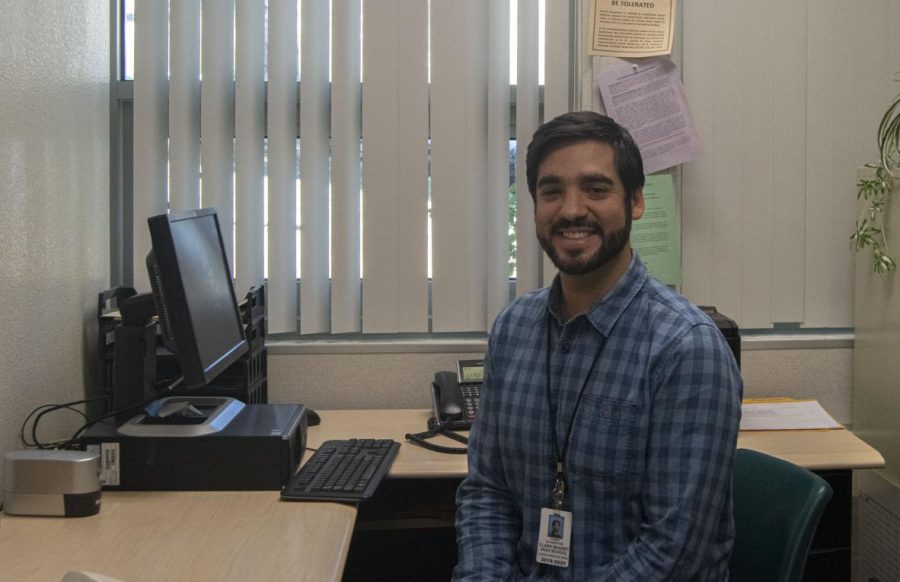 Psychoanalyzing the psychoanalyst: welcoming Clark's new psychologist
Times get tough for everybody every once in a while. Too much stress can feel overwhelming and can lead to other dangerous issues and mindsets, which is exactly why counseling is one of the core foundations needed to get high school students through such hardships.
Dr. Shahrokh Reza was the counselor / school psychologist at Clark for two years, but recently left for another job in the GUSD district offices. Casey Schaeffer was then hired to be the new psychologist/counselor.
"I really was assigned here by the administration, but I was… actually working with Dr. Reza as an intern last year," Schaeffer said. "Working with Dr. Reza was wonderful. He was just so paramount in my foundation of writing reports and working with students, families and students in special education. It was just very helpful in many ways, and it was a great foundation to start my career as a psychologist."
After attaining his general education in Pasadena City College for five years, then transferring to Cal State Long Beach for a bachelor's degree in psychology, Schaeffer went to National University to get his master's degree. "I've been in school a long time and experienced a lot of different… challenges with moving up in the hierarchy of degrees in school."
In terms of the field of psychology, Schaeffer finds it exceptionally rewarding, but specifically in the school setting. "I had dreams of working in schools in some way. I started out in schools as classroom and behavior aid, working with students with special needs," he said. "School psychology really was interesting, because… there's many responsibilities as a school psychologist. I like the multi-faceted[-ness of the job]. I love helping and working with students, that's the reward."
Schaeffer also has developed the recent hobby of puppet-making in his free time. "I volunteer sometimes at a puppet theater in Highland Park called Bob Baker Marionette Theater," he said. "I'm not a performer myself, but… I like helping out in general [on set]." Additionally, he dabbles in art and sculpting, and enjoys spending time with his family and week-old son. 
Schaeffer is available on Mondays, Wednesdays, Fridays and only meets with students individually. Junior Liana Tutunjian has had some previous experience with talking to Schaeffer, and recommends him to anybody who needs to let out their emotions. "He really helped me with just [having] someone to talk to. I don't really like sharing personal issues with anyone, so when I talked to him I felt so relieved, and all the stress I had in me just left," she said. "He really is a great person to talk to."