Cricket Busters win challenge with #SaveAFisheatABug
Dominique Evans-Bye's Environmental GIS class won the Lexus Eco Challenge in late November for the seventh time since the challenge began nine years ago. The team of ten students won $10,000 for themselves and the school, and they have a chance of winning up to $40,000 total in later competitions. Clark students have won a total of $195,000 to date in the Lexus Eco Challenge.
Team Cricket Busters' project is based on the positive environmental values of using edible insects as a major food source rather than the usual meats you buy in a market. These insects include scorpions, silkworm pupae, ants and crickets. To stand by their belief that one day insects will be a major food source in our culture, they took a trip in October to Typhoon in Santa Monica, a restaurant that serves the unusual delicacies.
Norick Margaryan, a senior documenting the trip, was surprised with his milkshake that contained cricket protein. "I expected it to taste disgusting," Margaryan said. "but it tastes just like a normal Oreo milkshake."
Later in October, the Cricket Busters went on a trip to CSU Long Beach and performed a chemical analysis on the nutrients of the edible insects as well as analyses on the food served at the school cafeteria. The students have not yet receive their results, as malfunctions with equipment at the lab have caused delays.
Participating students were divided into two sub-teams: Cricket Cuddlers and Barobusters. The Cricket Cuddlers advocated eating insects as a solution to the problem of overfishing, hence the social media tag #SaveAFisheatABug. The Barobusters, however, wanted to help increase the survivability of deepwater fish.
Fish with gas bladders suffer from barotrauma when brought quickly to the surface when caught with hook and line fishing gear. By law, undersize and protected species must be released, but cannot return to depth when gas is expanded in their body cavity. These fish die on the surface of the water.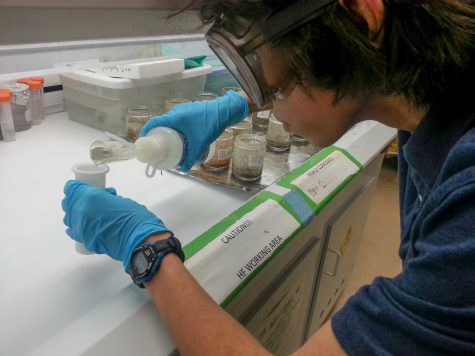 The science research class created their own descending devices to help fish suffering from barotrauma by relocating the fish back to deep water where they are recompressed. The Barobusters still await their fishing trip to test their descending device designs after three reschedulings.
The monetary prize was divided in standards set up Lexus Eco Challenge officials. Seventy percent of the total was shared among the students, 20 percent went to Clark Magnet, and the last 10 percent  went to the students' instructor.
Senior David Ghukasyan, project manager of the Barobusters, was delighted to hear the news that his team won. "I was surprised but also excited because we put so much work into this project," Ghukasyan said. "Most of the money I won is going to fund my college career."
Click here to read about the Cricket Busters' experience tasting various bug dishes.
Click here for the story about The Cricket Busters winning  the Air/Climate Eco Challenge.