Senior Devon Taylor presents his research to ESRI
Since the beginning of the school year, senior Devon Taylor has been researching the habitat suitability of Rockfish. By using The Ecology of Marine Fisheries as a resource, Taylor found that due to overfishing, the Rockfish are changing their social behaviors and are becoming more solitary than they are supposed to be.
In the literary review, Devon found that the rock fish are a very slow maturing species, and over the past few years, their population has had a significant decrease. The fish occupy most of the mid shelf habitat, an area located 900 meters below sea surface. This area also happens to be where most fisherman catch fish, and with California having the fifth most recreational fishermen, the Rockfish are getting impacted both socially and physically. An average fisherman catches an average of 14 rockfish per year. This is making the fish endangered and possibly extinct in the upcoming few years.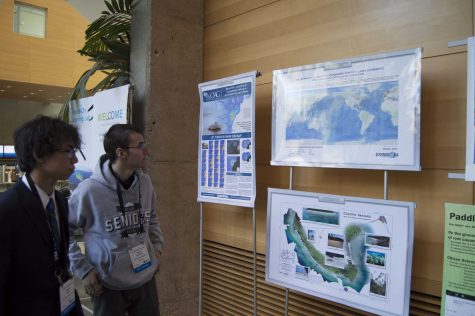 "I asked Ventura Sportfishing for the coordinates of where they usually catch Rockfish," Taylor said.  "I then used a sidescan sonar to survey the area." After surveying the area, Taylor mapped the results using the Benthic Terrain Modeler. This software allows Taylor to put in all his data and see which region is most concentrated with Rockfish.
On Nov. 5, Taylor took his findings to the ESRI Ocean GIS Forums, which was hosted at the ESRI Headquarters in Redlands, California. He addressed his concerns about the decline of the rockfish population to a roomful of scientists and researchers. Once Taylor had finished his presentation audience members began applauding; some came over to Taylor and complimented his work. Others asked many questions regarding his findings. "This is an ambitious project that combines several disciplines in the marine space and it is an important research for the ecosystems of Southern California and really understanding the impact of fisheries in the area and how different fields impact that," said Caitlyn Reines, a staff member of ESRI.
Sarah Franklin, from CSA Ocean Sciences, found it fascinating to see a high school student conduct this type of research. "It has great implications for available statistical tools for marine science, and he did a great job explaining the methods we could use," she said.
Taylor said that he hopes his research will help scientists and researchers gain a better knowledge on the Rockfish. He also believes that with the data set he has made available, researchers will be able to find the areas in the ocean that eventually need to be protected. "Clark provides many opportunities to students," Taylor said. "All we need to do is to seize those opportunities and take you a step in the right direction."