Clark students respond to climate change
Pandemic brings into focus environmental challenges
November 8, 2020
Climate change has worsened the scope of natural disasters, caused weather conditions to be more extreme, and triggered fires to start earlier in the season and spread more intensely, especially in the Los Angeles area.
Since the beginning of the fire season in Los Angeles County, forest fires have been consuming the L.A. landscape. As the dry climate continues to progress it creates ideal conditions for wildfires to flourish. "I live very close to the mountain as the fires become more unpredictable and get more nervous that one day we will lose our home," said junior Aleek Jivalagian. "We try to cut down the dead tree branches as often as possible to reduce the chances of it sparking a fire."
Families who live in areas that are more susceptible to fire try to take precautionary measures to prepare themselves when a natural disaster occurs. "For years my family has routinely practiced a fire escape plan in case the fire is beginning to spread within our neighborhood," Jivalagian said. "By doing these seemingly small and effortless actions can have a significant impact if one day there is a fire and have to make an emergency evacuation."
For people who exercise on natural terrain or are part of sports that practice near mountain ranges and forest communities, the high temperatures due to global warming become increasingly worrisome. "I run cross country at Glendale High School and we practice near Griffith Park where part of the park burns each year," said senior Joshua Gonsales. "Over the years, the destruction from the forest fire has drastically increased, making most of the park hazardous from the constant release of ash and smoke." These poor conditions cause it to be difficult to breathe for cross country athletes on these once very popular trails.
The Intergovernmental Panel on Climate Change, a group of 1,300 independent scientific experts from countries all over the world under, concluded there's a more than 95 percent probability that human activities have caused global temperatures to rise over the past 50 years.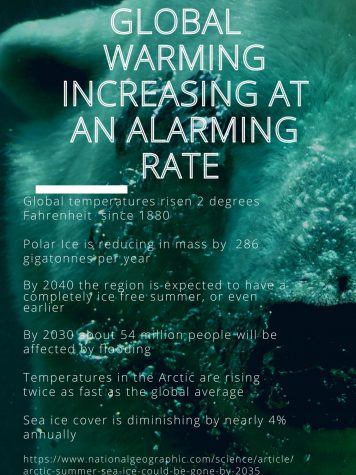 To help combat the issue of climate change, the Gov. Newsom implemented AB 1826 and SB 1383. AB 1826 requires businesses to recycle their organic waste and SB 1383 was enacted to help reduce landfill waste. To fulfill these regulations, Los Angeles County processes organic waste to capture and control methane gas emissions to help control the acceleration in global warming and climate change.
Gov. Newsom also recently announced a plan to phase out gasoline-powered cars to drastically reduce the use of fossil fuel in California's fight against climate change. The executive order requires sales of vehicles to be zero-emission by 2035 and additional measures to eliminate harmful emissions from other transportation sectors.
Senior Angelle Adorable recently purchased her first car and chose an environmentally friendly electric car. "I know car emissions are extremely detrimental to the environment so I wanted to do my small part to help reduce that," Adorable said.
The mandate targets a 35 percent reduction in greenhouse gas emissions and an 80 percent improvement in oxides of nitrogen emissions from cars statewide. "This is an important step that our state can take to help fight climate change," Adorable said. "Cars release harmful air pollutants that have caused an increase in wildfires and global warming. By taking these crucial steps, California can improve its air quality and reduce carbon emissions."
Systemic changes are important to counteract the irreversible damage carbon emissions have left on the ecosystem. These changes can control the release of emissions to help reduce the acceleration of global warming and climate change.
Due to the surge of COVID cases in Los Angeles County, Gov. Newsom implemented stay-at-home orders to slow down the spread. As a result, the world of manufacturing was halted for some time and factory emissions were visibly lower. Recent photos of factories, before and after the shutdown, capture the decrease of air pollution.
One of Dominique Evans-Bye AP Environmental Science students, junior Mari Tamamyan said that photos of recent environmental damage had an immediate effect on her thinking about the future of the planet. "When I first saw the images I was stunned, I never realized how bad the problem truly was," Tamamyan said. "After learning about the severe consequences of climate, it made me very concerned about our planet and determined to make changes in my life to help."
"To do my part in reducing my carbon footprint on the planet I started finding a way to reduce CO2 usage," Tamamyan said. "To start with, I began to cut out animal products from my diet because raising animals for food production has a huge carbon footprint. As a nation, we need to develop more sustainable solutions to use energy more efficiently, be less wasteful, and figure out how to get our energy from other sources because if we don't the livelihood of our planet is at jeopardy."