Testing out the AP tests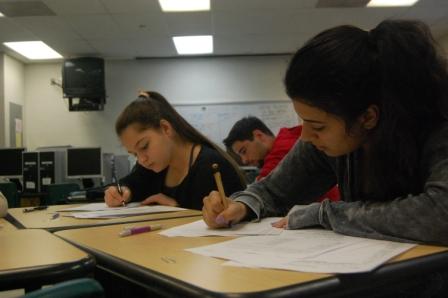 (May 2, 2013) — "This is the first time I've ever done a practice like this on the weekend," said AP Literature teacher Stephanie Sajjadieh about the AP practice exam that she helped coordinate on April 20.
Bright and early at 9 a.m. Saturday morning, 57 juniors and two seniors reported to the Davises' classroom to take their respective practice AP English exam — juniors took the practice AP Literature test and seniors took the practice AP Language test — to better prepare for their actual upcoming tests in early May.
According to Sajjadieh, the practice tests were structured exactly like actual AP tests, and consisted of a one hour multiple-choice section and a two hour writing portion of three essays.
Among these weekend test-takers was junior Cristine Khachaturova, who said that the practice AP Literature test gave her a good feel of the test's difficulty. Despite not preparing beforehand, Khachaturova said that timed in-class activities like in-class essays prepared her for the test's time constraints. "The most difficult part of the exam," said Khachaturova, "was remembering details from books I've read for the free-response essay topics."
After taking the practice, Khachaturova said that she and and many of her friends felt that they needed to go back and review their class notes and use practice books before the actual test. "I think that every Clark student will pass the test as long as they practice and refresh their memory of what we covered in class," Khachaturova said. Aiming to test her students on the test's essential need for time management, Sajjadieh said that she was satisfied with the positive feedback that she received regarding the practice test.
"Over the years, I've noticed that many students don't finish because they aren't used to timing themselves," Sajjadieh said. "And even if you're a strong writer, you need to be able to finish to pass." Sajjadieh said that she hopes this AP test practice reduced her students' anxiety about the test and showed them that they could master it. "As with other test-taking situations, hopefully [the students] will do well, but if they don't, they need to recognize that these tests don't define who they are. They only define how well [the students] did on one test, on one day," Sajjadieh said. Like the AP English students, AP Calculus teacher Armineh Mikaelian's students utilized time out of school to practice for their upcoming AP tests. According to AP Calculus student junior Tatevik Stepanyan, Mikaelin hosted four practice tests in her room after school to prepare her students for the exam.
Stepanyan said that these timed practice tests included a full multiple choice section and a six-question written response section. "Most people's score improved each time they took the practice test," Stepanyan said. Stepanyan said that these practice tests were very helpful with learning new strategies for approaching difficult problems. "I learned from these practices that partial credit is given," Stepanyan said, "so if I didn't know the answer I tried to show some of the correct solution steps to get some points."
Stepanyan said that the practice tests were most helpful with honing her time management skills, which have proven to be one of the most important factors in taking the AP tests.